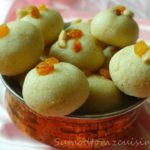 RAVA UNDA (SEMOLINA/SUJI LADDU)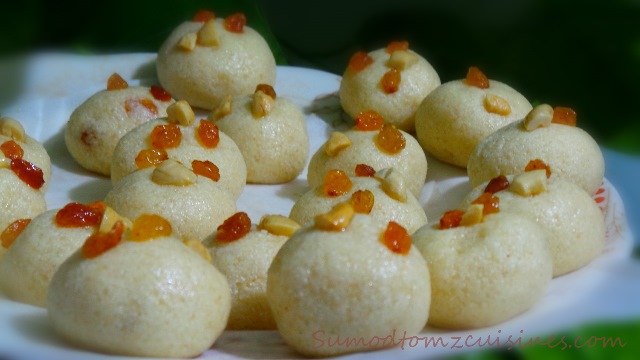 Kids' exams got over. Its time for outdoor games and they come back after hours of playing in the hot sun. It was a weekend and I decided to bake a special stuffed bread for them. But I wanted something sweet too; something special to surprise them. I suddenly thought of this sweet rava laddu or "rava unda" as we call it back home. This again was a staple sweet snack made by our grandmother at home during our childhood. I got this recipe from my aunty Grace.
Its a very simple recipe and can be made in 30 minutes. Absolutely delicious.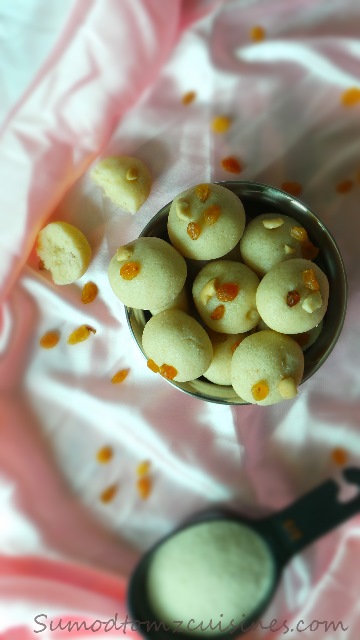 Ingredients
Instructions
Fry raisins and cashew nuts in little ghee and keep aside.
In a large wok, sauté semolina over low flame, till it is crisp (Make sure it does not turn golden). Add sugar and salt and sauté for another minute. To this mix, gradually add milk and keep mixing for few minutes. Then start adding ghee – a tablespoon at a time and sauté it till the mix comes out clean form the sides. It will be quite sticky, but you will be able to shape it.
Finally add the cardamom powder and 3/4th of the fried nuts and raisins. Mix well and set aside to cool till you can handle the mix.
Grease your palm and fingers with little ghee.
Take a teaspoon sized portion and shape it into a round or oval shape and garnish each with fried nuts and raisins.
I could not resist eating a few laddus while shaping them itself. It is irresistibly delicious. Cool and store in an air tight container. Can be stored at room temperate for a week to 10 days.
You can add shredded coconut or use any of your favorite nuts or dry fruits as variation.And can also use a mix of coconut milk and dairy milk.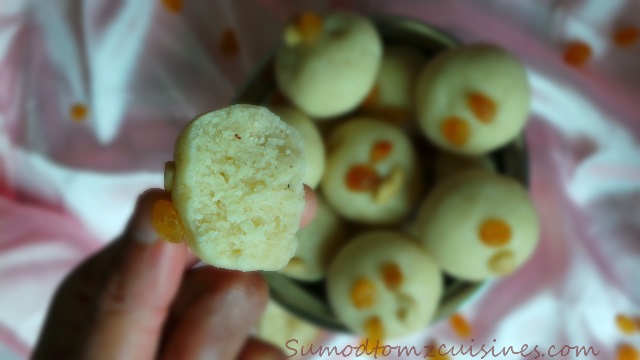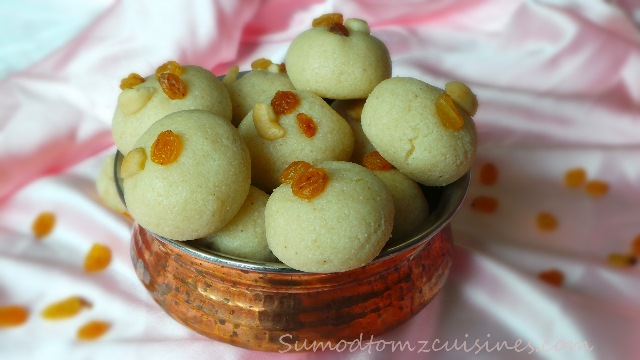 Click here for FAQs