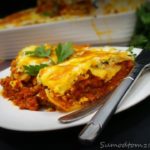 LASAGNA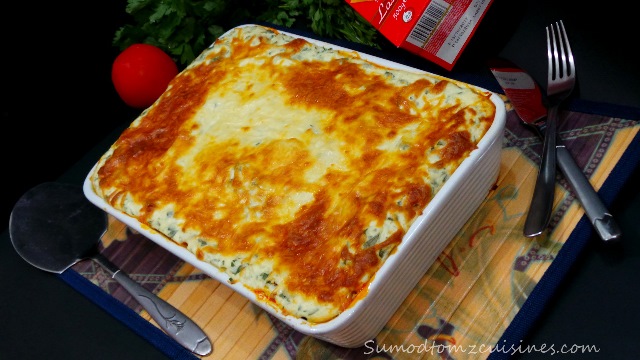 Lasagna is wide, flat-shaped pasta, and possibly one of the oldest types of pasta. It can also refer to a dish made with several layers of lasagna sheets alternated with sauces and various other ingredients.
It is an Italian baked meal (I must say a complete meal). This recipe is a spicy flavored one with minced meat sauce and a mix of egg and 3 cheeses. It is melt in mouth, juicy and amazingly tasty. One of the best foreign cuisines I have tasted. I love having a complete all in one meal. Lesser dishes to wash, don't have to think for different gravies;Just have it as a whole.
Lasagna is normally a rich dish with the cheeses and sauce.We can forget those calories on special occasions, right(well most of us can!! I know I can.) How can I not eat a flavorsome piece of this bake.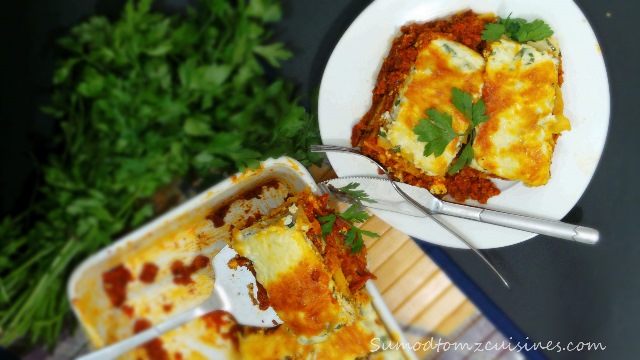 Ingredients
For the meat Sauce:
For the Ricotta cheese mix
Instructions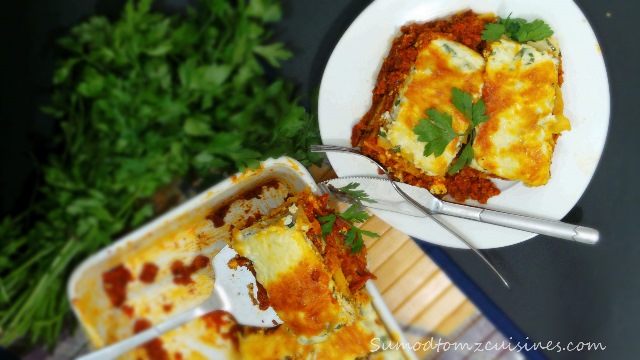 In a large pan, saut minced garlic, onion, carrots and celery, till it is golden brown. Add minced sausage, ground beef, saut over medium heat until well browned. Add cubed balanced tomatoes, tomato paste, tomato sauce, and water (you can also use red wine instead of water). Season with sugar, basil, fennel seeds powder, Italian seasoning, salt, pepper, and chopped parsley. Let it simmer, covered, for about 1 hour, stirring occasionally. Keep open for the final 15 minutes cooking.
In a large pot , boil water required for cooking the lasagna sheets. When the water starts boiling add some salt and olive oil. Cook the lasagna sheets in boiling water for 8 to 10 minutes. Drain the sheets, and rinse with cold water and add some olive oil, so that the lasagna sheets won't stick to each other.
In a separate mixing bowl, combine ricotta cheese with egg, remaining parsley and 1/2 teaspoon salt and pepper.
Preheat oven to 190 degrees C.
Take a large baking dish, around 10 X 12 Inches, grease with olive oil. Spread a third of the meat sauce at the bottom of the baking dish.
Arrange 6 lasagna sheets lengthwise over the meat sauce.
Spread with one half of the ricotta cheese mixture. Top with a third of mozzarella cheese slices.
Spoon a third of meat sauce over mozzarella, and sprinkle with Parmesan cheese. Repeat the layers. The final layer needs to be the meat sauce topped with mozzarella and Parmesan cheese.
Cover with a greased aluminum foil. Try to cover in such a way that the foil is not in contact with the cheese.
Bake in preheated oven for 50 minutes. Remove the foil, and bake an additional 20 minutes till the top is lightly browned.
Cool for 15 minutes before serving. Slice and serve. Its juicy ,tasty and outright fabulous.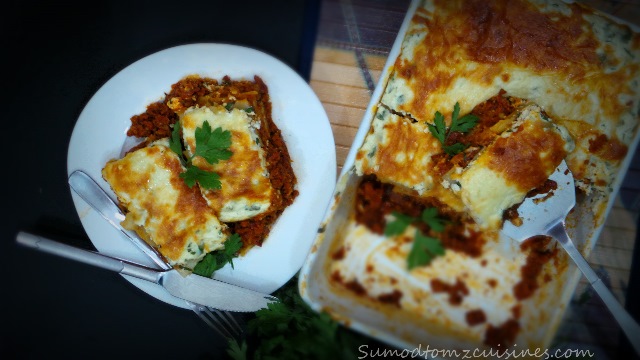 Click here for FAQs