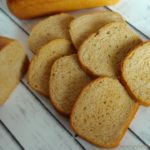 Whole wheat (Potato) bread Loaf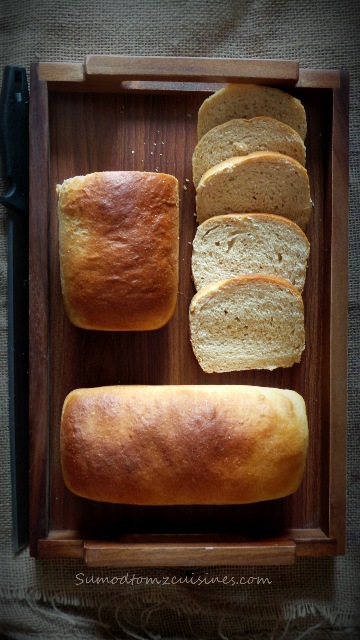 The enormous feedback I received for the white loaf and the whole wheat loaf recipe-1, inspired me in trying for variations in whole wheat flour bread, making them tastier and softer. Many had commented that the texture is dense and did not rise well.
Here is the improved version; a soft, moist and delicious whole wheat bread recipe.
If you are a beginner in breads baking, do not start with this recipe, please try white loaf or breads rolls recipe first.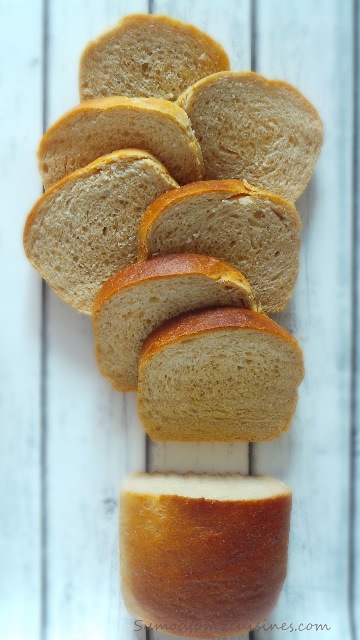 Ingredients
Instructions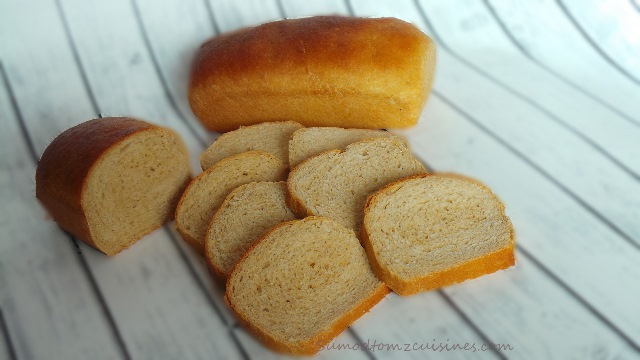 Peel the potato, and slice it into small cubes. Add just enough water to cover the potato and cook till it is soft. Remove from heat, drain off the excess water (save the drained juices for the bread) and squash in though a large sieve, ensuring that there is no chunks. Set it aside to cool.
Take ¼ cup lukewarm water (from the water in the recipe), add 1 teaspoon sugar and the yeast, mix well and set aside to rise.
Once the potato mixture has cooled to lukewarm, combine it with the remaining ingredients, except salt and olive oil. Mix and knead by hand or mixer, to form a smooth, sticky dough.
(I would advise to add half of the total water initially, and then little at a time, till you get the correct dough consistency.)
Cover with a wet cloth and let it rest for 20 minutes.
After 20 minutes add olive oil and salt and continue kneading for 5 minutes.
Transfer this to a lightly floured work table, knead gently for 5 to 8 minutes (lift, spread and throw or stretch and pull), adding little flour at a time (if required only), till you get a very loose, but not sticky dough. (The dough may seem very sticky, but after the above kneading, it will automatically form smooth dough, do not add excess flour, and do not knead hard)
Place the dough in a lightly greased bowl. Grease the dough also.
Cover it, with a wet cloth and let it rise at room temperature (preferably warm place) until it's doubled in size, 45 minutes to 1 hour.
Gently deflate the risen dough, and shape the bread loaf, take the dough and just spread into a rectangular shape with a rolling pin. Roll up tightly into a log. Place the bread dough in lightly greased 9 X 5 Inches loaf pan with the seam area at bottom.
Cover the pan with lightly greased plastic wrap, and allow the dough to rise until its domed center is about 1" over the lip of the pan.
15 Minutes before the bake, pre heat the oven at 200 C.
Just before baking, brush the loaf with little milk or melted butter or egg wash.
Bake in a preheated oven at 200 C for first 10 minutes, for 35 to 45 minutes at 180 C for the bread loaf. (Cover the top of the loaf with a baking sheet or aluminium foil after 25 minutes baking, to avoid too much browning.)
Remove the bread from the oven, and turn it out onto a rack to cool.
When completely cooled, wrap in plastic, and store at room temperature. Slice the loaf only after cooling.
I bet these tastes much better than the store bought ones, the aroma that fills the house when you bake these, will make you bake it again and again, in fact no more bakery breads.
Happy bread making…..
Notes to remember:
1) The dough would be very sticky initially, keep kneading with a scrape, adding little four at a time.
2) I have noted big change in the water requirement, with different batches/brands of wheat, so adjust accordingly. I would advise to add half of the total water initially, and then little at a time, till you get the correct dough consistency.
3) The potato weight 140 to 150 grams is before cooking, it will absorb water during cooking, so adjust the total water content accordingly.
4) The second rise is tricky, may happen in 20 minutes time to 1 hour or even more. The point is that, bake immediately when it doubles in size. If you over proof, the bread will collapse during baking.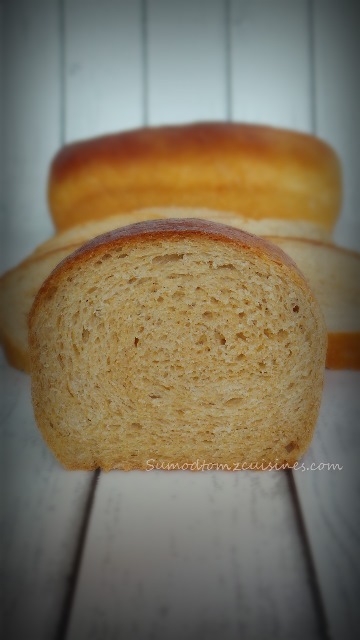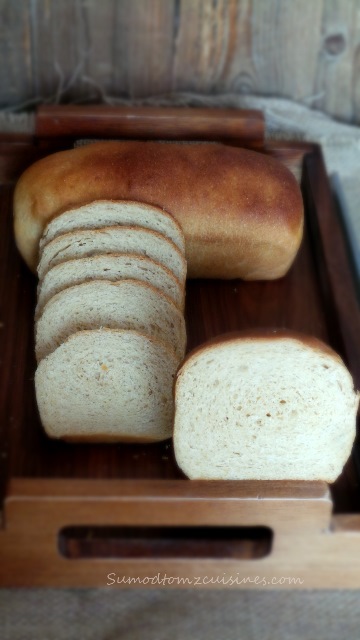 5

stars - based on

1

review(s)
Click here for FAQs