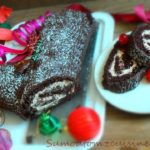 CHRISTMAS YULE LOG
Its that time of year again…Time to celebrate and glorify the birth of Christ Jesus…the food, wine, desserts, cakes just follow the tradition…December is the month I absolutely love.
This is totally a Christmassy bake. Elegant and a delicious dessert. Basically it is a roulade or Swiss roll based cake, and you can play with the fillings and frostings of your choice. All you need is a lil bit of patience while handling the very delicate sponge, especially during rolling and unrolling.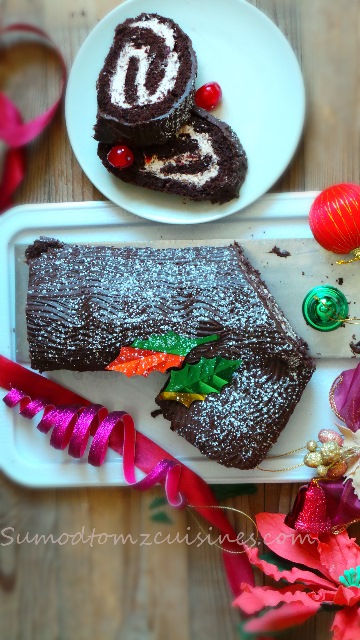 Ingredients
Instructions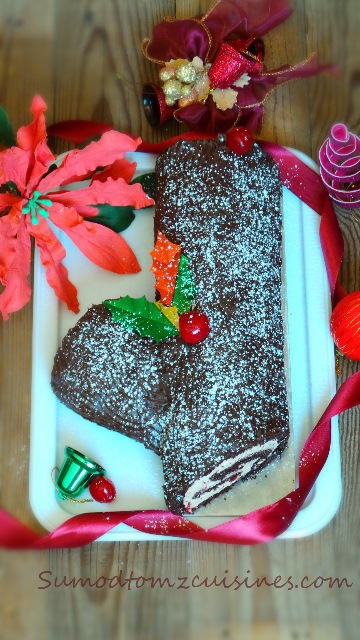 Preheat the oven to 180 C. Grease and line a large 15 inches x 14 inches Swiss roll tin with baking parchment paper.
Start beating the eggs, till it starts frothing. Slowly add in the sugar and continue beating, gradually increasing the speed. Beat for 7 to 8 minutes till its pale and creamy ribbon consistency.
Sieve together the flour, cocoa, salt and baking powder together, add into the egg mixture in two portions. Fold in carefully, without deflating the mix. Pour it on to the greased and lined baking tray and level using a spatula. Bake in the preheated oven for 10 minutes.
Place a large baking parchment paper on the work table, tip the baked sponge onto the parchment, spray with some sugar syrup. Peel off the lining paper, then roll the cake up from its longest edge with the paper inside. Cover with a towel and leave aside to cool.
To make the filling, whip up the chilled whipped cream in a chilled bowl using a chilled whip, till you get stiff peaks. Add few table spoons of soft ganache (as per your requirement) and continue whipping.
Meanwhile unfold the cake, spread the mouse filling generously over the top, leaving a centimeter from the edges, then carefully roll up again into a tight log.
Carefully cut a thick diagonal slice, using a sharp serrated knife from one end of the log. Lift the log gently on to a plate, and arrange the slice on the side with the diagonal cut against the cake to get a branch like look.
Spread the prepared ganache over the log and branch leaving the ends, then use a template or fork to mark the icing to give the effect of tree bark. Sprinkle some icing sugar to resemble snow, and decorate with flowers and leaves.
An extremely gorgeous Christmas Yule log is ready, slice and serve with some vanilla ice-cream and enjoy.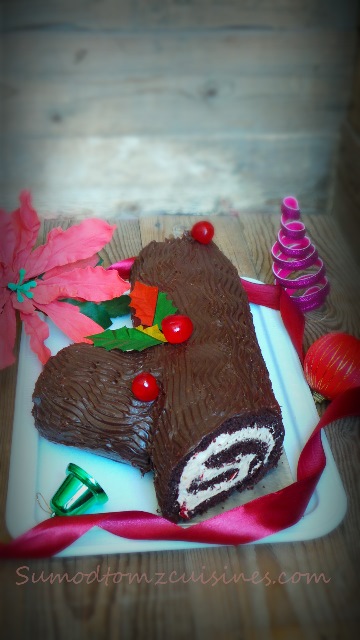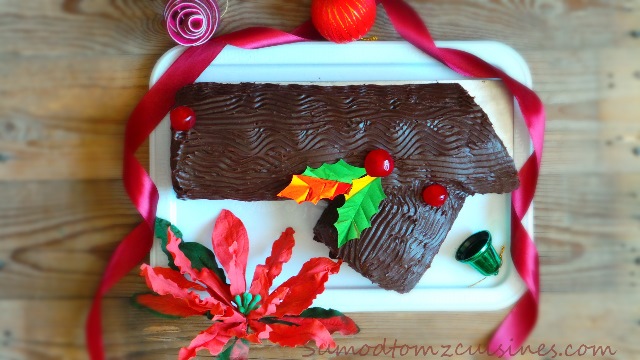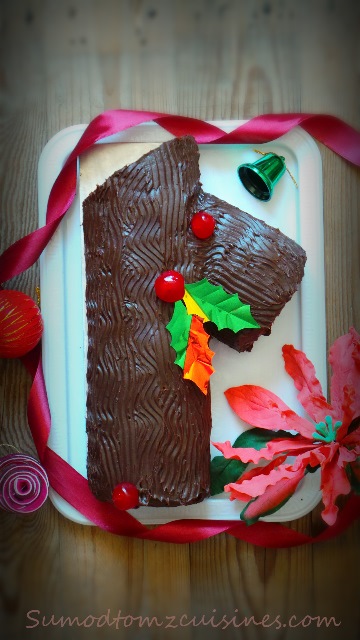 Click here for FAQs