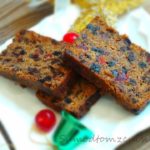 EGGLESS RICH FRUITS CHRISTMAS CAKE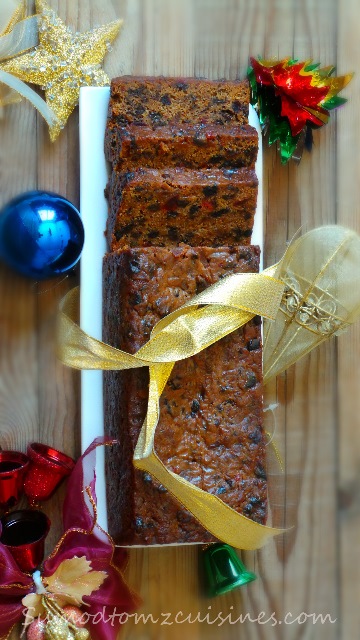 Ho!Ho!Ho…It's that time of the year again….The air is filled with a festive scent. The requests I received for an eggless fruit cake was immense and how can I not oblige in this merry merry season. It has made me experiment on this recipe, flopped a few times but that did not steer me away from my aim to give u a best recipe. This rich fruit cake is moist, delicious and absolutely bang on the flavor's.
Important tip…Bake and slice this cake with some classic Christmas carols in the background, I bet all you worries and tensions will just vanish like a click….
The wonderful aroma during the baking will sure invite all your neighbour's .…
Merry Christmas to all of you and God bless you and your family in this wonderful season…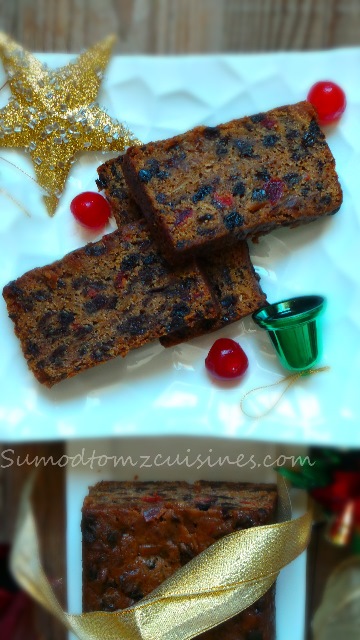 Ingredients
Instructions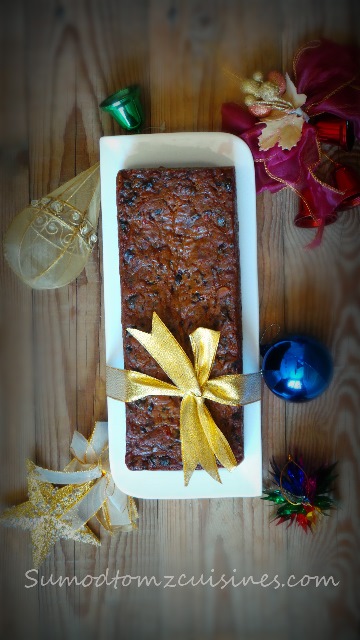 2 , 4 or even up to 6 months before Christmas (or at least few days ha ha..), in a large mixing bowl, add the liquor, jam, black treacle, spice powder and mix well. To this, add all the finely chopped dried fruits, nuts and peels and give it a good mix with a wooden spatula. Store it in an air tight glass jar in a dark, cool cabinet. Give it a thorough mix every alternate day, untill the day of baking. (I used to feed it more liquor, if the mix was found dry.)
The day of baking should be preferably at least a month or even few months before Christmas. All the ingredients have to be at room temperature.
Pre heat the Oven to 150° C.
The temperature is low as the cake needs a long slow bake. It is packed with sugars, fruits and brandy and if the temperature is any higher, the outside of the cake will burn and the inside will be undercooked.
Line a 7 or 8 inch cake tin or 9 x 4 loaf pan with a 2 layer-thickness of parchment or greaseproof paper. Tie a double band of newspaper around the outside; ensure the outer paper lining stands few inches above the baking tin, to accommodate the top paper cover. This acts as an insulator and to prevent the cake from burning on the outside.
Sieve together flour, baking powder and salt together and keep aside. In a large mixing bowl, add butter and powdered brown sugar. Cream together till it is fluffy. Add applesauce & golden syrup ; continue whipping on high speed till it is well combined. Scrape down the sides and repeat everything till it is well combined. Add the orange and lime juice and give it a mix. Remove the beater and start folding the flour, alternating with milk, say in 3 turns. Fold it gently until well combined. Now add in the soaked fruits and mix slowly in three turns. Fold until the mix is well combined.
Spoon the cake mixture into the prepared cake tin, making sure there are no air pockets. Once filled, smooth the surface with the back of a spoon and make a slight dip in the center (this will rise back up again during cooking and create a smooth surface for icing the cake).
Finally, using a paper towel, clean up any smears of the cake batter on the greaseproof wrapping; if left on, they will burn and though it won't affect the cake, it doesn't smell too good.
Cover the top of the cake (the outer newspaper) with a parchment paper.
Bake in a pre-heated oven for 2 to 2 ½ hours. (Baking time may vary from oven to oven). Keep checking after 2 hours with a tooth pick, till it comes out clean.
The cake should be nicely risen (don't expect the same as a sponge cake) and a deep brown color all over. If there is any sticky dough on the skewer when you pull it out, it needs cooking longer; if it is clean, the cake is done and can be removed from the oven.
Leave the cake to cool in the tin on a wire rack for an hour. Then remove from the tin and leave it to cool completely. Once cooled, prick the surface of the cake at a few spots with a fine metal skewer and slowly pour over 2 – 3 tablespoon brandy. This is called feeding and should be repeated every week up until Christmas.
The cake should be stored wrapped in greaseproof or parchment paper in an airtight tin, in a dark and cool cabinet.
Use a very sharp serrated knife to get a perfect slice.
The cake is rich in dry fruits, has a great aroma, is very moist and tastes fabulous. Do give it a try. I promise that it will be worth it.
Note 1: You can vary the liquor proportion, a mix of brandy and rum works best for me.
Note 2: Do not skip the double lining (inside and outside) and the covering of the baking tray.
Note 3: If you do not want to use rum or brandy, replace with fruit jams and red wine.
Note 4: Choose your own preferred dry fruits, but try using dark dry fruits for a rich darker color, preferably dark raisins, black currant, prunes, cranberries etc.
Note 5: If sealed and stored properly in a cool cabinet (no need to refrigerate), the cake stays fine for months.
Note 6: replace Black treacle Syrup with jaggery syrup and golden syrup with caramel syrup.
Note 7: Adjust the milk quantity to get the correct desired consistency of the batter; make sure you don't end up making a very runny and loose batter.
Note 8: Ingredients for Applesauce (I followed BBC good food recipe)
Green apples peeled, cored and chopped – 500 grams
Lemon, zest – 1 lemon
Water – 3 to 4 tablespoons
Butter – 25 to 30 grams
Sugar – 2 tablespoons
Method
1. Put the peeled, cored and chopped apples in a saucepan along with sugar, lemon zest and water. Cover and cook over a low heat until they are soft and mushy. Remove from heat and add butter.
Set aside to cool.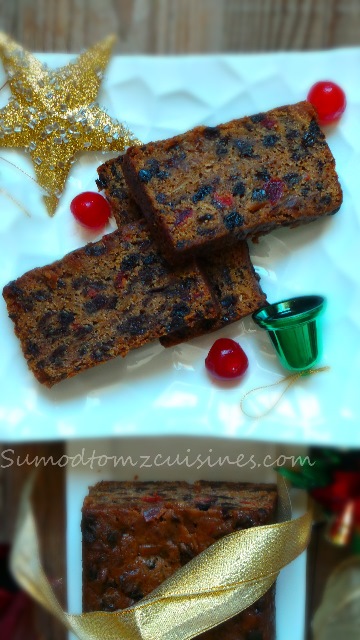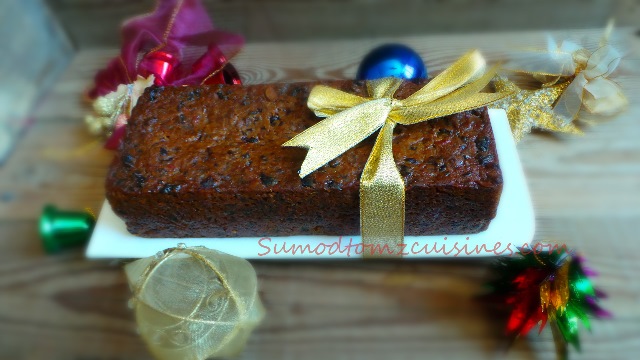 5

stars - based on

5

review(s)
Click here for FAQs