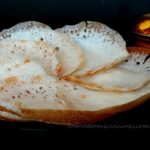 Vellyappam/Palappam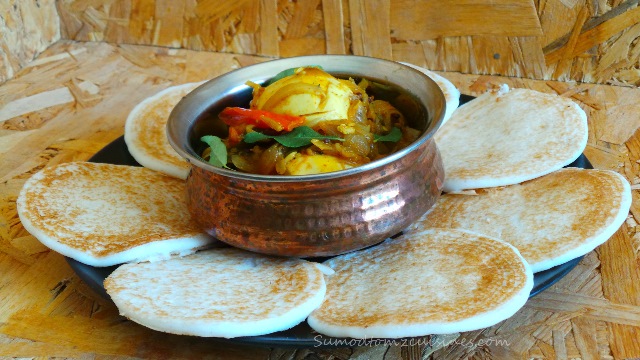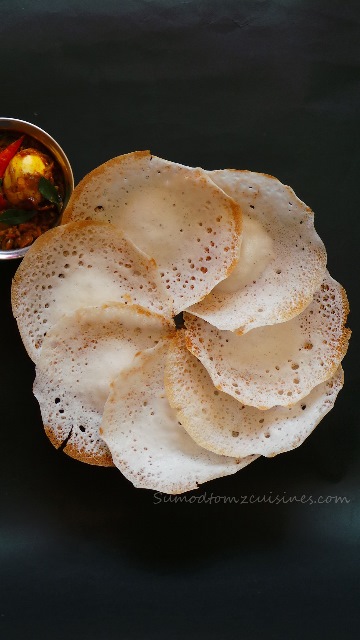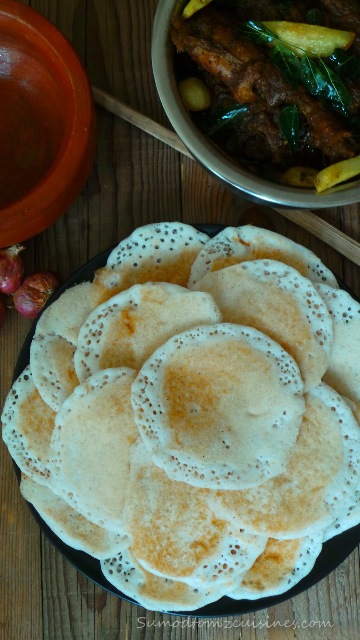 Being a true hard-core Malayalee that I am, how can I not have this on my blog!
I would be doing a pure injustice to myself 
Another 5 star buddy which has quite an ancient roots to be proud off. Cruising through home celebration's, festivities, even finding its place among five star restaurants to even the basic of street food…This hero is quite happy being among the rich and the poor. Absolute no attitude is thrown around and has a very adjusting nature.
Appams usually were fermented using Toddy, which acted as a leavening agent. And not to mention the queue formed in the kitchen to get a sip of that Toddy!! Sigh…long gone are those days. With the leavening agent being yeast now. Even semi-tender coconut is used. Be it the lacy frilly goodness or the thick pancake shaped ones, each mighty to its own beauty and flavour. Appams were made on a rectangular shaped tava and a bulk could be cooked up in one go. Which was very convenient for celebrations. Even the palappam chattis were made of cast iron before the non-stick ones made their entry.
A Christian tradition is not complete without this humble friend. Be it a starter or a main meal, it makes its appearance everywhere. Every home has their own unique lil speciality in making them which usually gets passed on .…..varieties of Appams are endless, Pan fried, steamed, adding of an egg, etc. Today it's my homely take on the Vellayapam/Palappam. As my grandma would call "a cheat meal" or "a bachelors recipe" It's that easy peasy. Best served warm with a gorgeous Stew of any sorts, Meat Curry, Fish moilee, black chickpeas(kala channa) curry. Another sweeter version is to serve the warm appam soaked with coconut milk and sugar. The taste is simply gonna give you a sixer. Try it out…
And for all the health freaks out there, its gluten free, oil free, fat free. Go dive into a new habit. Make Appams!!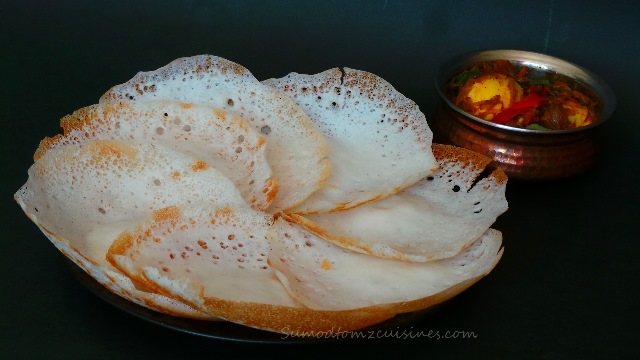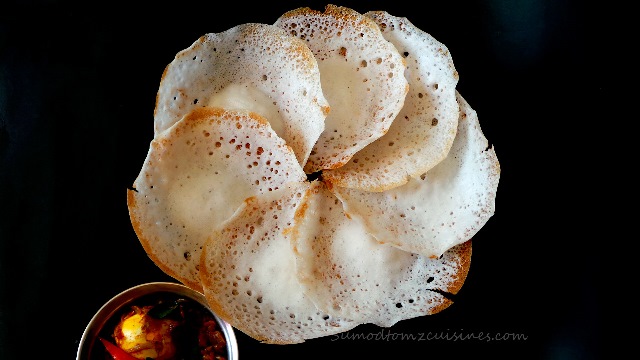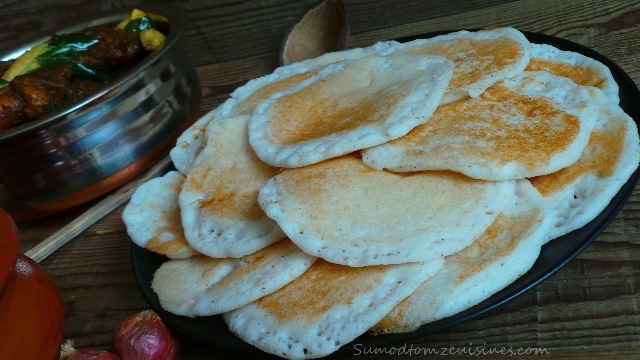 Ingredients
Instructions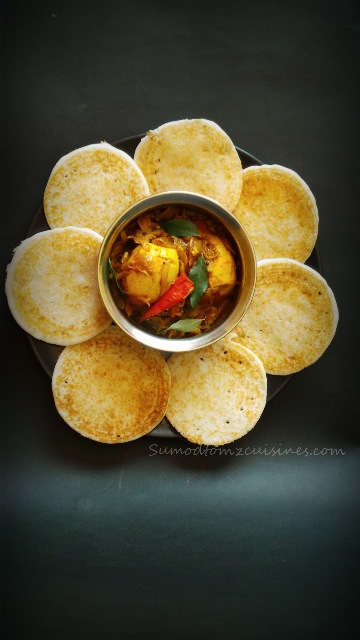 Wash and Soak the rice for 6 - 8 hours and drain
Mix the yeast in little sugar and lukewarm water and leave aside to rise.
Grind together the rice, coconut, cooked rice as well as small onions to idly batter consistency. Now add the yeast and mix well. Keep aside to ferment overnight. Remember that it takes longer to ferment in cold places.
Next day, in the morning add the sugar, salt and coconut milk. Mix well and keep aside for some time.
Pan fry Vellayappams on a plain tava which is greased very, very lightly. Appams have to be turned and cooked on the other side as well. The same way you would do for set dosas.
Palappams are cooked on a special palappam chatti which is slightly curved, somewhat like a kadai . A spoonful of batter is poured onto the chatti and holding both the handles a full 360 degree turn is given to spread the batter to the sides to get it as thin as possible. This gives the lacy frill. Cover and cook till the centre is cooked and edges are crisp. Do not turn these palappams. Indulge in one of the many combinations told above. Close your eyes and just indulge.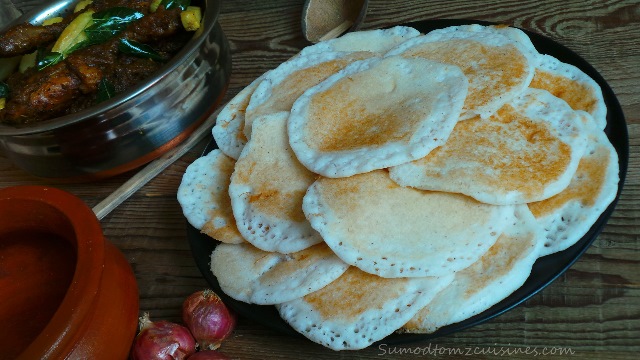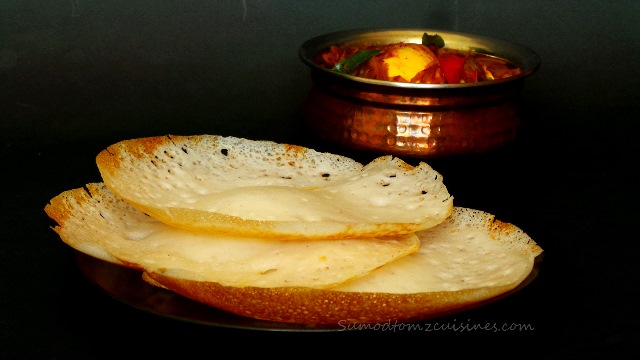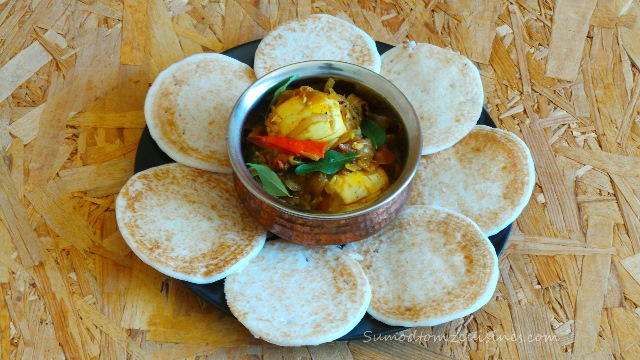 Click here for FAQs