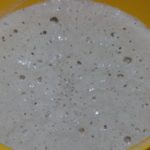 SOURDOUGH STARTER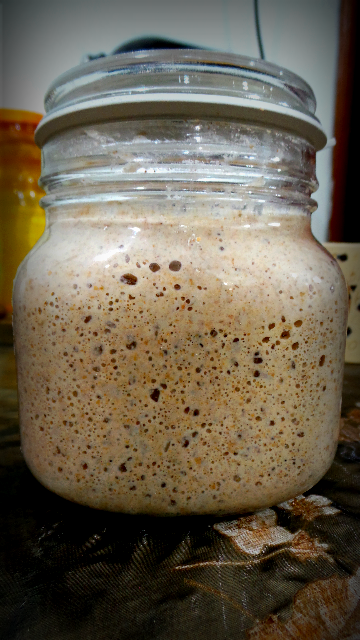 Born and bought up in Kerala, lots of place to move around, a lovely garden, pets and suddenly confined to a small apartment space was saddening. My dream will be to stay in a villa, recreating my childhood.
Gardening is my passion, and back home I used to have a decent flowers and vegetables garden during my school days.
And also being a passionate baker, locked inside the 4 walls of an apartment, I still manage to grow few veggies and spices with the available constrained spaces and hot and dry desert weather. But my newest love is growing wild yeast at home.
Im talking about the preparation of sourdough starter, nourishing the wild yeast naturally available for free. Its an amazing journey, watching them grow and thrive each day.
The whole process is easy, a bit lengthy but worth the try.
Thank you Sujith Sumitran for the basic lessons and tips.
To begin with, take a wide-mouthed glass jar, I used a glass jar with a rubber and wireframe seal and an empty honey bottle. Give it a thorough cleaning by rinsing with boiled water. Let it dry.
Sourdough recipe adapted from Breadtopia.
Ingredients
Instructions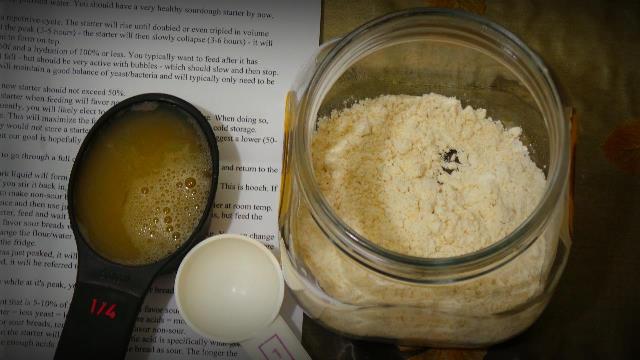 Step 1.
Mix 3 ½ table spoons. whole wheat flour with ¼ cup unsweetened pineapple juice ( I used KDD store bought fresh pineapple juice). Cover and set aside for 48 hours at room temperature. Stir vigorously 2-3 times a day. (Unsweetened in this case simply means no extra sugar added).
Step 2.
Add to the above again 2 table spoons. whole wheat flour and 2 table spoons. pineapple juice. Cover and set aside for a day or two. Stir vigorously 2-3 times per day. You should see some activity of fermentation within 48 hours. If you dont, you may want to toss this and start over.
Step 3.
Add to the above again 5 ¼ tbs. whole wheat flour and 3 tbs. purified water. Cover and set aside for 24 hours.
Step 4.
Add another ½ cup whole wheat flour and 1/4 to 1/3 cup purified water. You should have a very healthy sourdough starter by now, to make a sourdough bread.
Refrigerate the starter, with a lid on it. Allow a little breathing space in the lid. You can feed the starter every alternate day, and mix thoroughly after every feeding.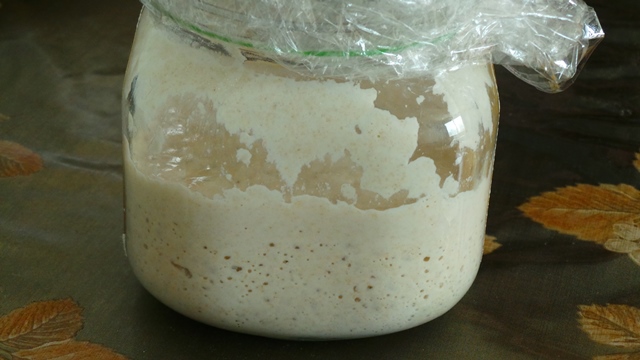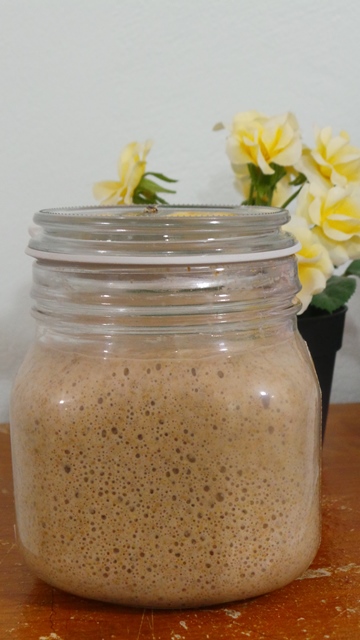 4

stars - based on

1

review(s)
Click here for FAQs