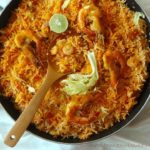 Shrimp Rice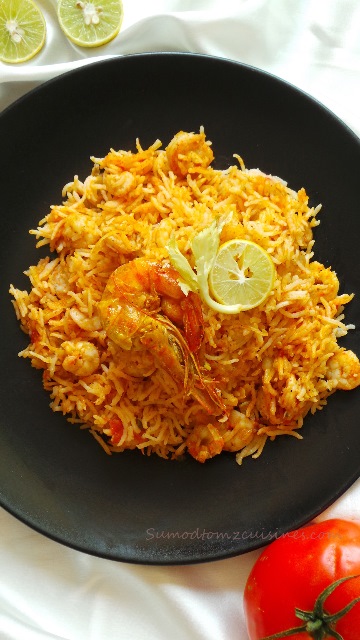 Bored of the routine party special main courses like biriyani, fried rice....
Then here is something for a delicious change.
I've a soft spot for shrimp/prawns. Don't ask me why though. I feel the flavors are more absorbed or developed. Am I the only one who loves to clean a crustacean? What about u? Let me know.
They might be tiny "but" an atom bomb tastewise. Curries, biriyani, starters, pastas, pizzas....the list is endless.
Whoa....quite a cute guy 😁.
Well, here I've my made one of my family favs which my lads polish off in no time. Asking for seconds too. The reason being not much of veggies staring back at them. Spice it up or keep it medium. It's upto you. Though my palate will definitely prefer the spiced up one.
An ideal size would be small/medium shrimps. Let's cook up some magic. Come along.
And don't forget to read the added flavor enhancement tips in the end 👇🏼👇🏼👇🏼
Ingredients
Instructions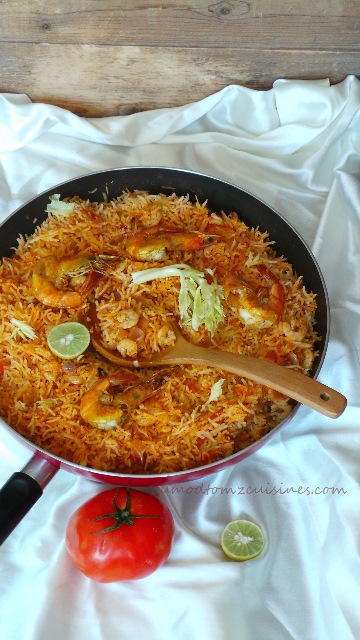 Wash/Rinse the rice and soak in water for 30 minutes. Marinate cleaned shrimps in little lime juice, pepper powder and salt for 30 minutes.
Heat a large kadai/cookpot, add butter and melt, add the chopped ginger, garlic, and celery stem, sauté till it is done. Add in shallots & sauté. When soft and done add green chillies, pepper powder and chilli powder, sauté till the raw smell is gone. Then add blanched tomato cubes, sauté till cooked and the butter separates. Add in shrimps, sauté for few minutes followed by the rice and salt. Sauté gently for 5 minutes & make sure you do not break the rice.
Then add 5 cups boiling water and lemon juice. cook on a medium flame till the rice is done and water dries out. Garnish with chopped celery leaves, green chillies and tomato wedges. Enjoy.
Notes:
1) Add some grated parmesan cheese just before serving; it lifts the dish to another level.
2) We may not be used to cooking prawns with head. But actually prawns head is full of rich flavours and is very juicy. You can rinse the whole prawns well in running water before cleaning. Use the removed head to make a boiled broth in which the rice can be boiled. It will totally enrich the rice and take the whole dish to another level of richness and taste.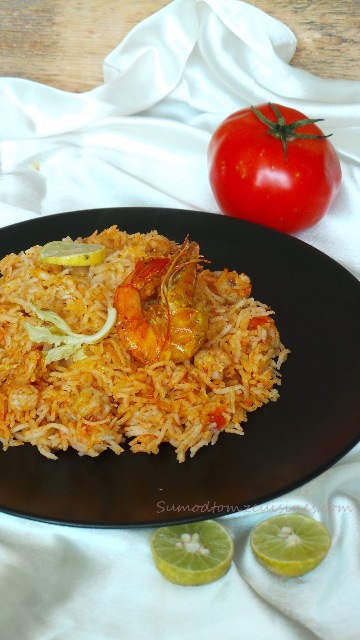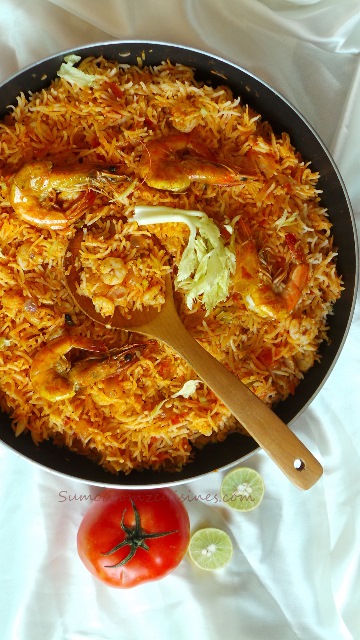 Click here for FAQs