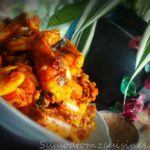 PRAWNS CURRY
Yes I know what you all must be thinking. But cant help it ..Im a huge fan of prawns. During one of my visits to my Aunts house in Kollam, I was lucky to get some fresh large prawns. I wanted to make the best out of the valuable treasure. After seeing Mona and Rohini posting delicious prawns dishes with the head on, I too wanted to give it a try with my loot. Its the very first time I've tried to do this but I was in for a surprise!!!wow!!!Amazing flavours..It was like everything is in the head!!!
Remember that saying..I should say it actually is. Wanted to experience the actual taste of prawns without all the spices so kept it subtle. Mild sauteing in hot oil and that it. Feel the taste, experience its too good.
Ingredients
Instructions
Marinate the cleaned drained prawns with turmeric powder and salt, set aside for 30 minutes.
Meanwhile slice the coconut, onions, shallots, garlic, ginger and tomato.
Heat a tava, add coconut oil. To this , add the whole spices and saute for a minute .Remove the whole spices. Add the sliced coconut and fry till you get a nice golden brown. Add mustard seeds and let it splutter. Add curry leaves, followed by ginger, garlic ,onions and shallots. Saute till its soft and golden. Add the chilli powder, pepper powder and coriander powder, saute till the raw smell is gone. Now, tip in the chopped tomatoes and saute till it is cooked and soft.
Add the marinated prawns and saute for few minutes on high heat.
Cover and cook for another few minutes. The total cooking time shall be not more than 7 minutes. Beware over cooked prawns are rubbery and a total disaster!!! Finally garnish with more curry leaves.
Serve hot with rice or rotis.
Click here for FAQs