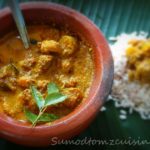 PRAWNS (CHEMMEEN) THEEYAL
Every individual has a craving for some dish; A dish that can be licked off the bowl.
During my college days in Bagalkot, when non- veg was rare in the menus, dal and sliced onions with a spoon of curd used to be my favorite dish (which has changed once I left college. A pure non-vegetarian by soul!!)
For me, its the chemmeen theeyal. A very traditional Kerala special dish, cooked in a clay pot ( mann chatti in malayalam) with roasted & ground coconut and spices. The thick, tangy and delicious gravy is just enough to complete a plate of rice.
If you hear the word Theeyal presume that its made of ground coconut with masala.Theeyals are so versatile(can be veg and non-veg) and tasty that this one dish alone with a plate of rice can be truly relished ,and second helpings too can vanish within seconds .
Ingredients
Instructions
Clean and de-vein the prawns, mix with salt and turmeric powder and set aside for 30 minutes. Take a clay pot , add the marinated prawns in the clay pot and cook for 2 minutes. Remove the prawns into another plate.
Heat another pan and add the shredded coconut, half of the sliced shallots, garlic and ginger. On medium heat, stir the mix till it starts turning golden brown. At that stage add curry leaves, fennel seeds, whole dry chilies and whole coriander seeds. Continue stirring till the coconut turns deep golden brown. In case you are using chilly and coriander powders, add it at this stage and remove from fire. Stir occasionally till it cools down completely.
Once cool, grind it to a fine paste (preferably on a stone grinder), with little water.
Heat the clay pot again and add coconut oil. Once heated, add the mustard seeds and let it splutter. Throw in the curry leaves and remaining sliced shallots. (You can add few sliced green chilies, if required at this stage). Add a pinch of fenugreek seeds or powder. At this stage, add any one of the souring agents that you have chosen and let it boil followed by prawns and the ground paste.
Season with salt, let it cook for another 3 minutes, till the oil separates and you have thick gravy.
Garnish with fresh curry leaves, serve hot with rice or kappa. Bliss. Oh!!!!!I love this dish.
Click here for FAQs