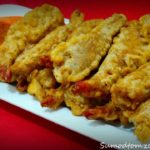 PRAWNS BATTER FRY.
Prawns; it happens to be one of my favorite. Who doesn't like prawns?!! This particular recipe is another dear one which I hold close to my heart. Its from my grandmother. She used to be a fantastic cook. Heirloom recipes are always meant to be cherished, right? This is our familys all-time favorite starter made for special occasions and vanishes in a blink of your eyes. A very easy recipe which doesn't require much of prep time(well, of course, except for getting the prawns dressed) It is crispy outside, with a succulent prawn inside and trust me. its sinfully delicious.
Ingredients
For marinating
For Batter
Instructions
Marinate cleaned and deveined prawns in lime juice, pepper powder, chilli powder, crushed garlic, ginger, salt and soya sauce for an hour, keep in the refrigerator.
Prepare a thick batter by mixing egg, corn flour, all-purpose flour, baking soda, salt, chilli flakes and water/ beer.
Heat a deep vessel/kadai, add oil for frying. Dip the prawns in plain flour to completely coat them and then into the thick batter.
Deep fry in medium/high heat for 5 to 7 minutes, turning in between, till its golden brown.
Remove with a slotted spoon, and drain the excess oil.
Serve hot with any dip of your choice and fresh salads.
There cannot be a more delicious and simpler dish to kick start a dinner party. Enjoy.
Click here for FAQs