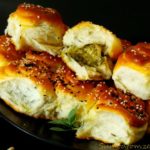 Pesto filled pull apart bread rolls
Not to be remotely intimidated by the name, this is a very soft and flavorsome dinner roll which imparts an intense  aroma during baking. A perfect recipe for a fabulous weekend dinner. Another wholesome dinner package I must say. Easy, very delicious and a perfectly  healthy all in one meal.
Recipe adopted form King Arthur Flour and modified. Thanks to my cousin Sheba, and baker friend Bincy,(you know why right, Bincy!!)  
Ingredients
Instructions
If you're using active dry yeast, dissolve it with a pinch of sugar in ¼ cup lukewarm water from the recipe. Let the yeast and water sit at room temperature for 15 minutes, until the mixture has bubbled and expanded. If you're using instant yeast, you can skip this step.
Combine the dissolved yeast (or instant yeast) with the remainder of the ingredients, except salt and butter. Mix and knead everything together -by hand or mixer till you have smooth dough. Finally add salt and butter and continue to knead. If you're kneading in a stand mixer, it should take 5 to 7 minutes at second speed, and the dough should barely clean the sides of the bowl, perhaps sticking a bit at the bottom. If by hand, it should form a smooth, just non sticky ball.
Place the dough in a lightly greased bowl. Cover the bowl, with a wet clothe and allow the dough to rise, at room temperature, until it's nearly doubled in size, around 1 hour.
While the dough is rising, lightly grease two 9 inches round cake pans.
While the dough is rising, lightly grease a 12 inch round cake pan.
Gently deflate the dough, and transfer it to a lightly greased work surface. Divide it into 14 to 16 pieces round balls of equal size..
Pat down each balls into a small circular disc, apply pesto sauce and fold into a flower shape.
Place the flower rolls in the round cake pan, spacing them evenly; they won't touch one another.
Cover the pans with lightly greased plastic wrap, and allow the rolls to rise till they're very puffy, and have reached out and just touched one another. This process will take around an hour. While the rolls are rising, preheat the oven to 190°C.
Just before baking, generously apply egg wash or milk wash, and sprinkle with some sesame seeds.
Bake the rolls until they're a deep golden brown on top, and lighter on the sides, about 25 to 35 minutes.
Remove the rolls from the oven, and after 2 or 3 minutes, carefully transfer them to a rack. They'll be hot and delicate, so be careful. Brush with more pesto sauce just before serving. Serve warm, or at room temperature, with hot steaming soup.
Click here for FAQs