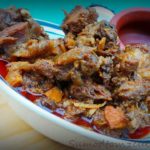 NADAN KOZHI VEVICHATHU
There was a time when chickens were fresh (by fresh ,I mean those that are not pumped up artificially) and not stored for time-unlimited in freezers or cold storage. It was like, if today the dinner was a chicken curry, run behind the poor chicken, catch it and slaughter it for a fresh curry!!! Sad might be the chickens plight but the dish was amazingly beautiful. But times have changed a lot now.
This happens to be one of my favorite chicken preparations. Chicken bathed in a thick coat of masala gravy. You will be needing a Nadan Kozhi (country fowl ) for the bestest of tastes . But can also try it otherwise too. Its cooked with the skin on, freshly ground spices, bite size pieces of fried coconut .mmm…ohhh…just this post along has me drooling. Has the ship started sailing in your yummy tummies yet?
Paired best with kuthari choru (boiled rice) and all appams. Want a lil more indulgence?? Can even have it with Kerala Parathas and onion rings.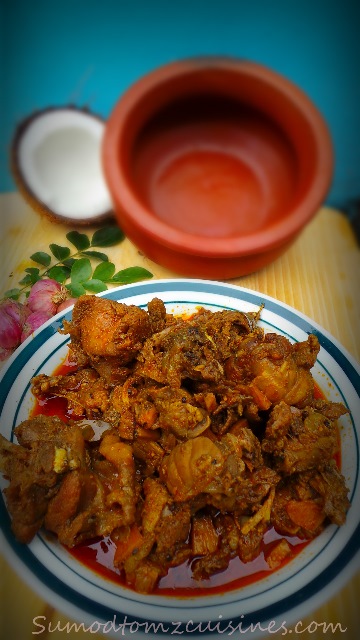 Ingredients
Instructions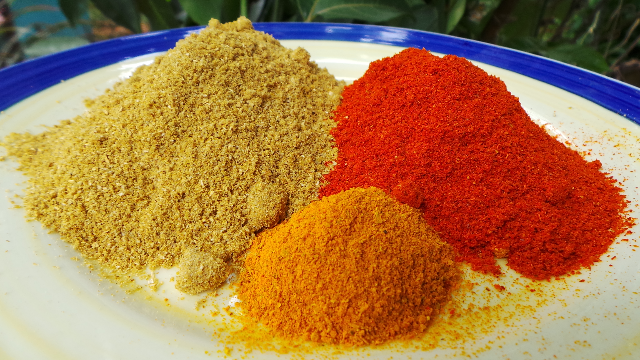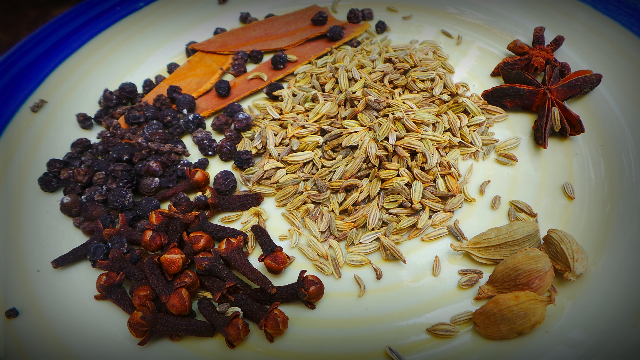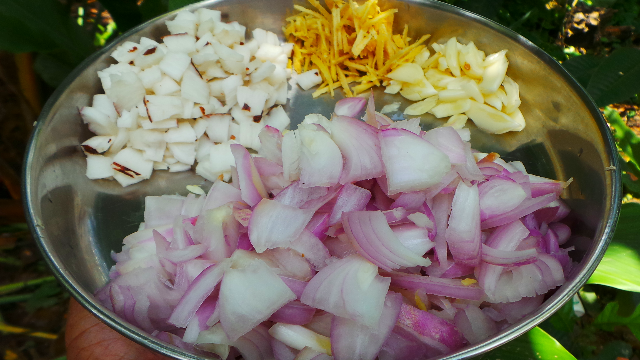 Clean the chicken, with the skin on, sliced into medium sized pieces.
Grind together the spices and pepper on a stone grinder.
Heat a heavy bottom pan, add coconut oil. Add the sliced coconut pieces and fry till it turns golden brown. Add the mustard seeds and let it splutter. Add a pinch of asafetida, followed by garlic and ginger. Saute for a minute and add sliced onion and shallots. Saute it well till it turns golden brown. Then add all the powdered items and saute well on a low flame till the raw smells gone. You will get wonderful smoked flavors (and a cough or two too!!) when it is done. At this time add in the chicken pieces, salt and the vinegar. Saute well on high heat for 5 minutes to get the chicken coated with the masalas. Add 1 cup of water, cover and cook. Check the gravy in between, and add water as required. You get the best results when slow cooked in wood fire, but you can also cook it in a pressure cooker. When done, saute on high heat and reduce the excess gravy if present to how much ever you need.
Garnish with some curry leaves and serve hot.Try it,you wont regret it!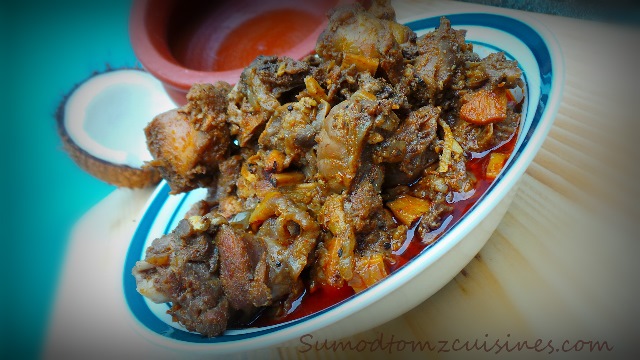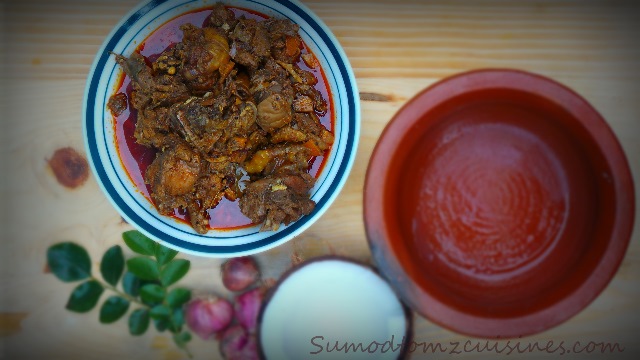 Click here for FAQs