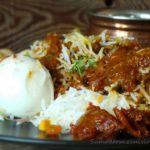 My Favourite Biriyani Recipe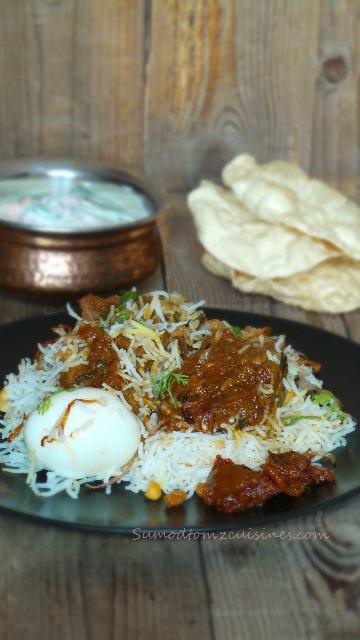 When I scream (make that scream a bit loud), BIRIYANIIIIIII……What image floats through those beautiful mind of yours??!!
Is it a simple mix of rice and chicken tossed in herbs, a spicy and flavourful masala coated chicken peeping through specks of perfectly cooked basmati rice or a mildly spiced grilled chicken placed on top of rice? Well, give me any of those, I can devour it. There are tons of biriyani recipes in a variety of spice levels. In Kuwait, if you go to any restaurant and order a biriyani, what you get will be very, very mild flavoured (I call it bland) dish. Hyderabadi biriyani is known to have quite a reputation for its flavour and style of cooking.
But, come to God own Country and biriyani fits in like those medley's which are created. Each song pairing up so well with the next one. From North to the South, you get a total different variety be it the look or the flavour .Each delightful to the palate in its own way.
Biriyani is treated as a royalty, served in olden times during special occasions like weddings, baptisms, birthdays. But no more!! It has become a damn everyday affair. Indulge like never before…Hmmm…Can that be a cause for my expanding waistline?? Or am I eating too much bread? Ahh…anyways, that's not going to stop me….Blessed with some glorious genes that hide away any sorts of proof of what happens in my kitchen.
Let's leave my waistline and get back to Your Highness The Biriyani. My fav choice will be the Mutton Biriyani by Chef Naushad (a renowned chef from Kerala) as well as the one served in Paragon restaurant and Thalassery style biriyani.
The below recipe is a beautiful fusion of some of the techniques used in Kerala. A tad bit laborious but in the end you will thank me..(bowing down)
Well then, let's get down to some serious Biriyani talk.
This recipe is a beautiful fusion of various Kerala biriyani techniques
Succulent pieces of mutton/chicken wrapped in a blanket of thick masala and resting on a bed of delicately flavoured rice. Do we have to say any more? Whilst I pen down my thoughts on this notoriously addictive royalty, alas, A Titanic has sunk in my mouth…..In that sense, I cannot write anymore till I recover from this aromatic indulgence….Sigh…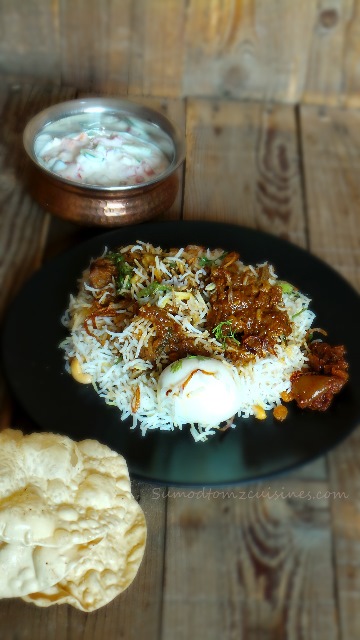 Ingredients
For the rice :
For the Biriyani setting
Instructions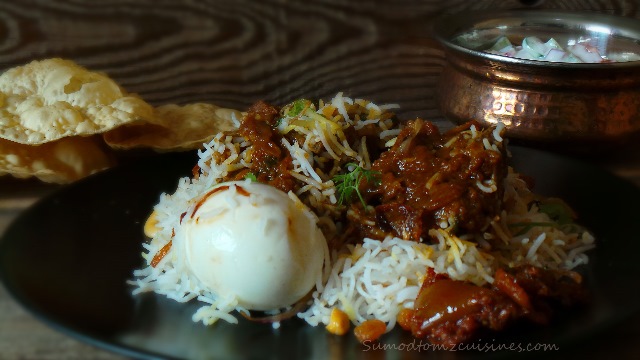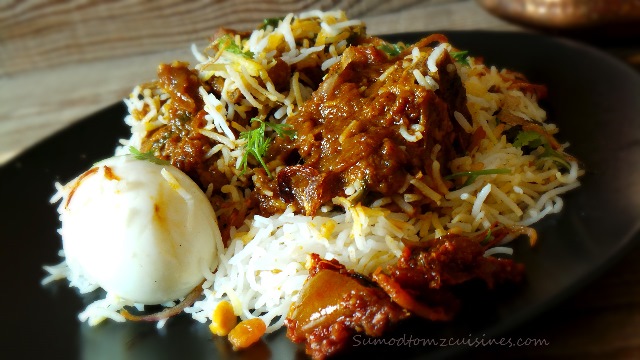 For Mutton
Marinate Mutton with ½ tsp turmeric powder, 1 teaspoon chilli powder, 1 teaspoon crushed pepper, 1 teaspoon each crushed garlic & ginger, curd and salt and keep it for an hour.
Heat oil in a large pan, fry 3/4th of the sliced onions in 2 or 3 batches till golden brown, strain and keep aside.
In the same pan, half fry/sauté the marinated mutton for 15 minutes and keep aside.
Now add ghee to the left over oil and add the balance of sliced onions and tomatoes, sauté well till it is soft and mushy. Add green chillies, crushed garlic and ginger and sauté well. Then add the turmeric powder, chilli powder, coriander powder and garam masala into it. Throw in the curry leaves and half of the mint and coriander leaves.
Add sautéed/half fried mutton pieces into the masala, mix well, add little water and cook covered on low flame
Keep stirring once in a while. When it is almost cooked; add 3/4th of the fried onions, and mix well. Cook covered again till mutton is cooked.
Preparing the biriyani rice
Wash the rice and soak it in water for 30 minutes, and drain it.
Mix saffron in 4 tbsp. of hot coconut milk and keep aside.
Heat a large vessel and pour little ghee. Fry the raisins and cashew nuts and keep aside.
To the same oil, add bay leaves, cloves, cinnamon and cardamom, sauté for a minute till all the flavours comes in. Add water and let it boil thoroughly.
Add in the drained rice and Mix well and cook covered in medium heat. Stir occasionally but very lightly being cautious not to break the rice. When the rice is 80% cooked, add salt to taste. Once its 90% cooked, drain off the water, add few tbsp. of lemons juice and spread the rice in a large pan to avoid over cooking.
Assembly of the biriyani
Take a relatively large pan to set the biriyani. Coat it with a little ghee and switch on the flame to very lowest. Spread the mutton masala layer at the bottom, top it carefully with the rice taking care not to over handle the rice lest it breaks up. Put a layer of fried onion, cashew nuts and raisins over it along with chopped pineapple, mint and coriander leaves, and the saffron coconut milk mix. Repeat the same process till the whole rice is spread.
Seal the pan with the lid tightly, using any flour dough. Spread some hot burnt charcoal pieces on top of the lid, and let in cook in low flame for few minutes. (You can bake in pre heated oven for 10 to 15 minutes). All the magic happens here so don't skip it! This process is called Dum, wherein all the flavours are steamed in and merges into the biriyani mix.
Open the lid after 10 to 15 minutes and serve the biriyani hot with a large spoon from one side, taking along the mutton pieces and masala with every scoop. The aroma wafting throught your home will definitely call for some knocks on your doorstep….That's it. I need to stop.....
Serve with salad and pickled lemon.
1) Slow cooking meat on wood fire yields the best flavours.
2) Adjust the cooking time if you are using chicken.
3) For meat masala I used 10 Cloves, 5 Cardamom, 1 star Anise, 2 1 Inch piece cinnamon sticks, 2 teaspoons fennel, few stands of maze, 1 bay leaf.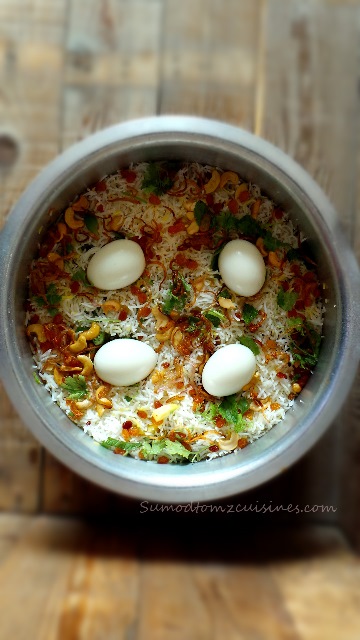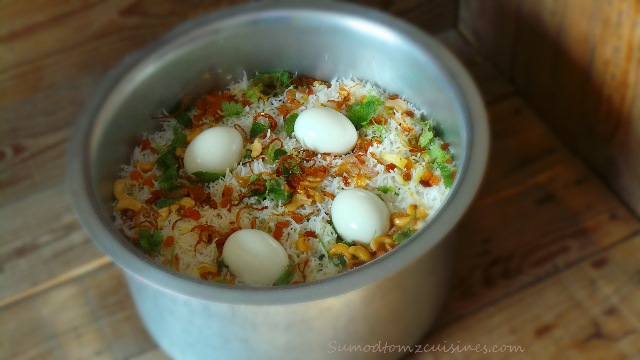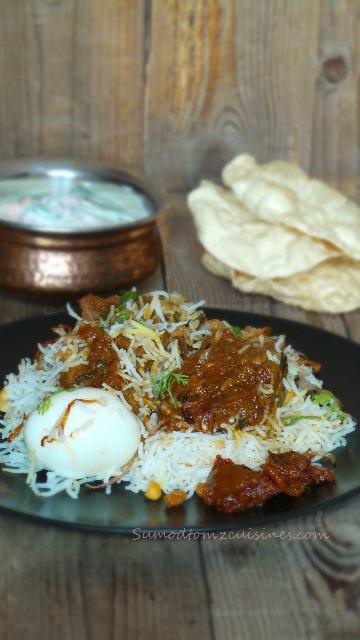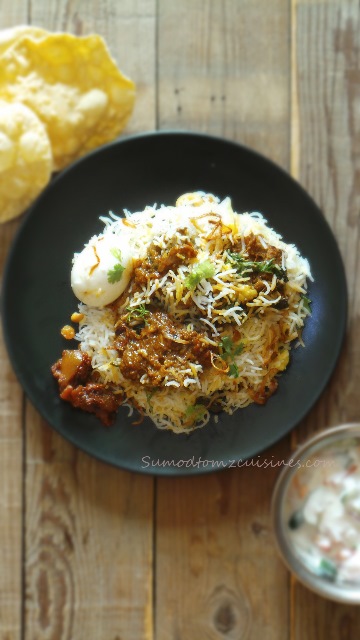 Click here for FAQs