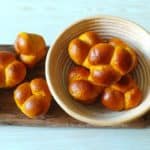 Multi-grain Pumpkin Bread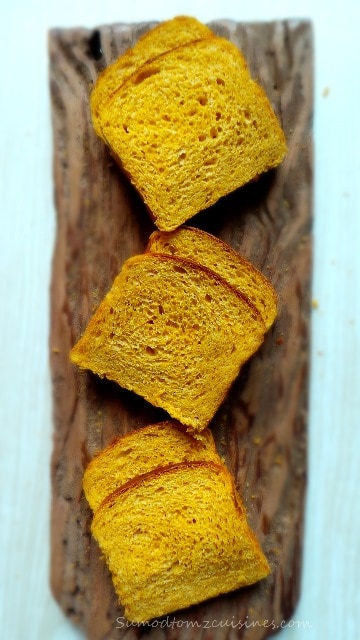 "The best is yet to come"
I love experimenting with different flours, I absolutely love it. In spite of a number of failures, I always have a feeling that the best is yet to come.
This bread recipe was just that a wild attempt. But one of the best results ever. The flavor was unique and delicious. The smell of freshly baked bread was so inviting that a few neighbors came knocking.
Multi grain breads usually tend to be crumbly and dense. But this bread was super soft and spongy. I could easily cut thin slices.
I couldn't help myself I had to eat a few rolls straight out of the oven.
The slices paired amazingly with some butter and jam… it was heavenly.
Moreover, since I've disguised a serving of veggies in the bread my fussy eaters devoured the bread without any complaints.
What are you waiting for, go ahead and try this recipe. I'm certain you will love it.
This recipe makes a large loaf and dozen 60 gram bread rolls.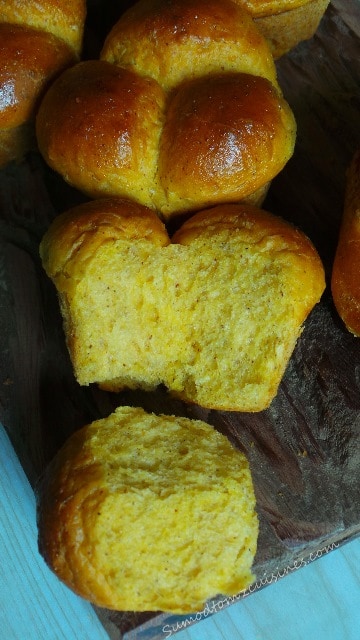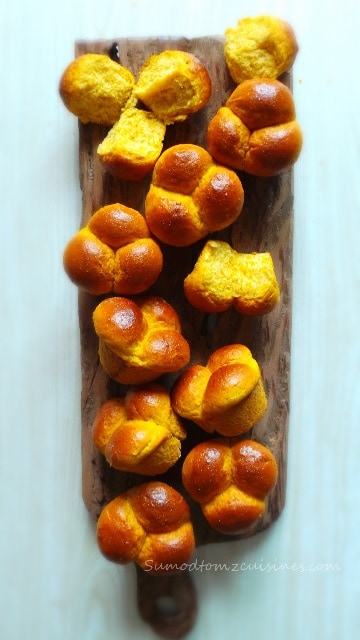 Ingredients
Instructions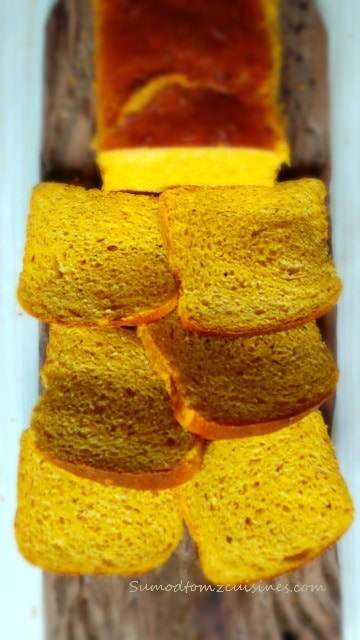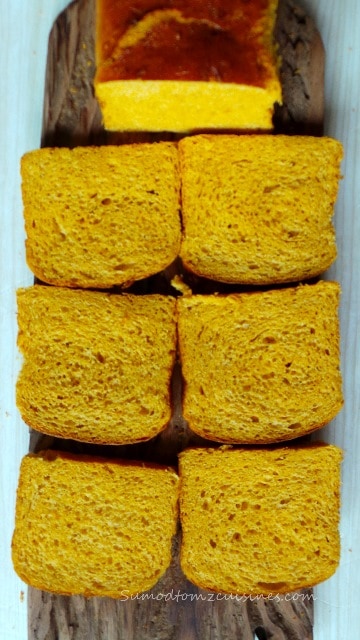 Take 3/4 cup of water from the recipe and add Oats, and cook the oats. Set aside to cool.
Skin pumpkins and cube to small pieces. Add ¼ cup water and cook squash well and reduce the mix to 230 to 250 grams. Set aside to cool.
Mix all the flours and sugar in a large mixing bowl. Add the above oats, pumpkin puree and remaining water. Mix well till you get very loose dough. Set aside (Autolyze) covered with a wet cloth for 40 to 60 minutes.
Now add yeast, mix well, followed by salt and butter. Transfer this to a lightly floured work table, knead gently for 10 minutes (stretch and pull), adding little flour at a time (if required only), till you get a very loose, but not sticky dough. (The dough may seem very sticky, but after the above kneading, it will automatically form smooth dough, do not add excess flour, and do not knead hard)
Place the dough in a lightly greased bowl. Grease the dough also.
Cover it, with a wet cloth and let it rise at room temperature (preferably warm place) until it's doubled in size, 45 minutes to 1 hour.
Gently deflate the dough, to shape the bread loaf, take the dough and just spread into a rectangular shape with a rolling pin. Roll up tightly into a log. Place the bread dough in lightly greased 9 or 10 X 5 Inches loaf pan with the seam area at bottom.
Cover with a greased cling film, and let the dough rise for 30 to 1 Hour (preferably warm place), till it has doubled.
15 Minutes before the bake, pre heat the oven at 200 C.
Just before baking, brush the loaf with little milk or melted butter or egg wash.
Bake in a preheated oven at 200 C for 10 minutes and reduce to 180 C and continue baking for another 35 to 40 minutes. Rolls will be baked in 25 to 30 minutes. Remove the bread from the oven, and turn it out onto a rack to cool.
When completely cooled, wrap in plastic, and store at room temperature. Slice the loaf only after complete cooling.
I bet these tastes much better than the store bought ones, the aroma that fills the house when you bake these, will make you bake it again and again, in fact no more bakery breads.
Happy bread making…..
Tips to remember…
1: Please note, water required may really vary in this recipe, Use the lesser amount in summer or humid climates; the greater amount in winter or drier climates.
2: Baking time could vary from different ovens.
3: The dough may seem very sticky, but after kneading, it will automatically form smooth dough, do not add excess flour, and do not knead hard)
4: The proofing time will vary with the room temperature, so check accordingly.
5: If the crown of the loaf is getting too much browned, cover with a baking sheet after 25 to 30 minutes.
6. You can add 1 or 2 eggs to this flour mix, It would enrich the flavor and crump texture. If egg is added adjust the water quantity according to the weight of the egg.
7) Pumpkin is naturally sweet, and you can skip sugar if your feel so.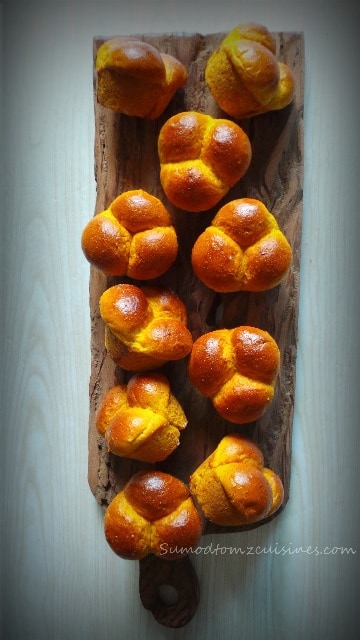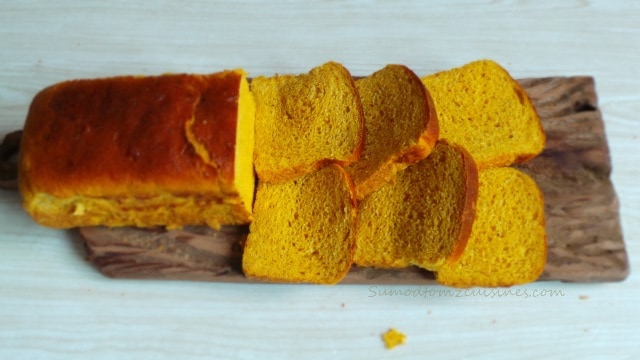 4

stars - based on

1

review(s)
Click here for FAQs