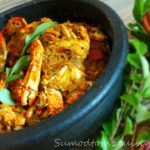 KERALA CRAB ROAST
Crab at any time is most welcome into my humble abode!!!
One of the most delicious of all sea foods, cooked in spicy masala. The natural sweetness infused along with the spicy masala brings out the best in this exotic dish. Crab is must eaten spicy ( my personal way). There is a misconception that cleaning crabs is a very tough task, but let me tell you, it is much easier than cleaning fish. Sharing photos and videos https://youtu.be/UwlFosiLTwk which will make it easier for your understanding. The most important thing is the last part…Eating the crab. I personally was not a very good crab eater but practice makes perfect, right!!! So eat more crabs and get perfect!! Don't expect crab eating to be a pretty sight…Dunk in with your bare hands and enjoy this delicacy to the utmost.
Ingredients
Instructions
Clean the crab properly, wash in cold running water and set it aside to drain completely.
Marinate the cleaned crabs with turmeric powder, pepper powder, lemon juice and salt, toss well and keep aside for 30 minutes.
Meanwhile, slice shallots, onions, garlic, and ginger (thin julienne).
Heat a large chatti/tava, add coconut oil, crackle mustard seeds, and add a few strands of curry leaves. Then add a pinch of asafoetida, ginger and garlic, sauté for few minutes, followed by green chili, shallots and onion, sauté till soft and done, add the spice powders, sauté well till done. Add in the chopped tomatoes and sauté till the tomatoes are softened and oil separates.
Now add in the crabs, salt and sauté well in high heat for few minutes. Ensure that all thr crab pieces are fully covered with the masala mix.
Add little water and mix well, cover and cook till done. Adjust the gravy as per your requirement. I prefer a thick gravy for this roast. Garnish with some fresh curry leaves…
This is a sure shot killer recipe…..eaten best with Kappa (tapioca) vevichathu , rice or as a separate starter itself.
Note: You can add coconut milk finally to adjust the gravy requirement; it is an added and delicious variation to this dish.
Click here for FAQs