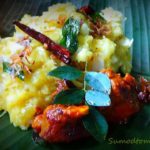 KAPPA/TAPIOCA VEVICHTHU /VEYCHADU
This is a traditional Kerala dish, widely consumed by all, irrespective of class or creed, the rich or poor.
Every household used to have tapioca growing in their back yards. The tapioca used to cook this dish was freshly plucked form the backyards of my home.
In certain regions this is prepared as a special dinner menu on the eve of Christian Weddings. It is a super delicious meal and pairs best with fish /meat curry, or even kadu manga (mango pickle)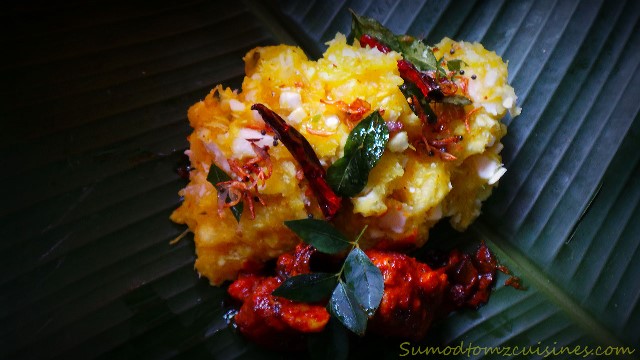 Ingredients
Instructions
Peel out the skin and thoroughly wash the whole tapioca .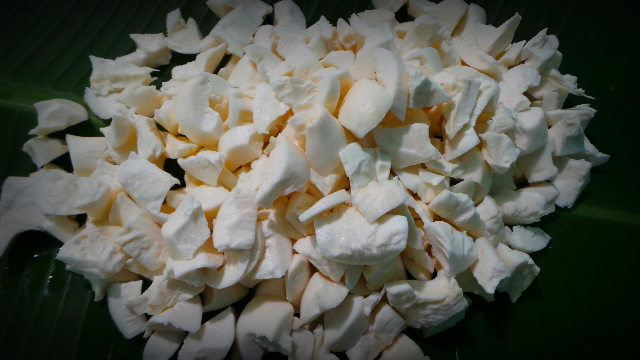 Slice them into large cubes.
Heat water in a large pan (water level should be few inches above the tapioca level).
Meanwhile coarsely grind together the ingredients mentioned as above, and keep aside.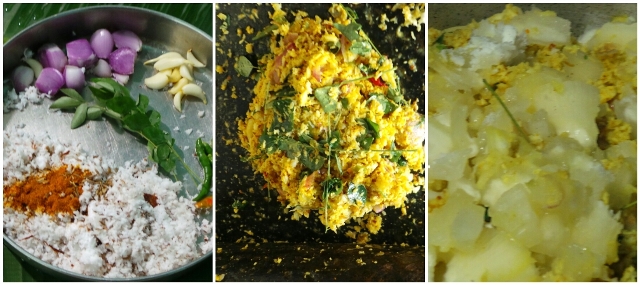 When the water starts boiling add the cubed tapioca slices and cook. When it is almost done add salt and ¼ tsp turmeric powder and salt as required. When cooked and done, drain off the water completely.
Make a well with a spoon in the center of the cooked tapioca mix and add in the coarsely ground coconut mixture and some whole curry leaves. Cover it completely with the tapioca mix. Place a lid and cook it for 5 – 7 mins on a low flame.  Then mash it coarsely using a heavy wooden spoon. Drizzle little coconut oil at this stage.
For tempering, heat coconut oil in a pan and crackle the mustard. Add thinly sliced onion and curry leaves. When the onions turn light golden, add the dried chillies and take the pan off the flame. Sauté for few seconds and pour over the tapioca mix
Serve piping hot with Kudampuli fish curry or Pork/Beef curry or kadu manga(mango pickle).
* Notes to remember
You can adjust the coconut and chilli quantity as per your choice.
Do not overcook the tapioca.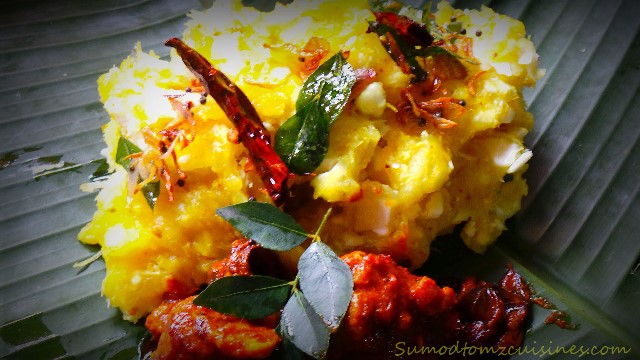 Click here for FAQs