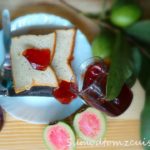 GUAVA JELLY/JAM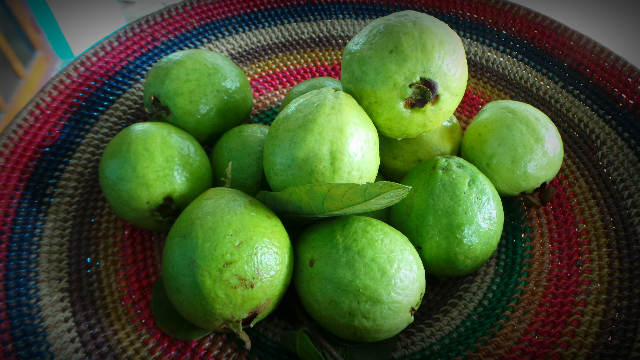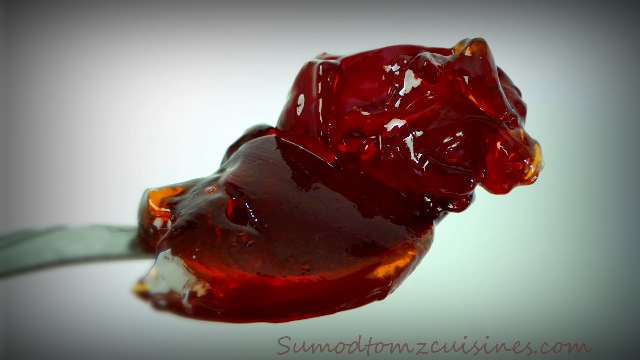 Yes. You have read it quite right.Guavas and Jam.Another bountiful produce this year. Can't let them go a waste right and there is a limit to which we can devour them !!!. Birds were free to have their share too. Even then, there was loads of it.
I remember my grandma making this jelly/jam during childhood but was not too keen on jotting down a quick recipe or taking a mental note. Aunty Grace once again comes to my rescue.
It is delicious, no additives and the color is sparkling red. Here goes.
Ingredients
Instructions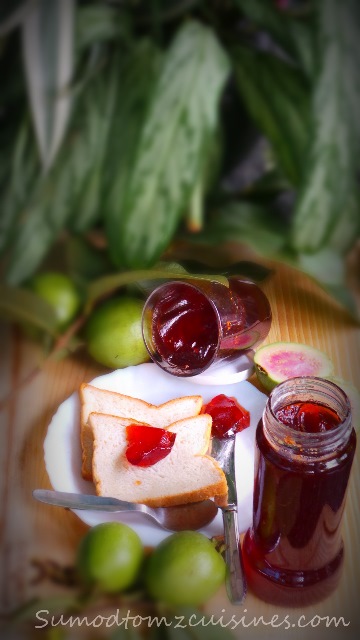 Few days prior to making the juice, wash, clean, sterilize and sun -dry all the pans, spoons and bottles that will be used for storing. This is very important.
Chop off the edges and cube the guava with a clean steel knife.
In a large clean steel container mix the cubed guava slices and water and let the mix to boil, stirring in between. Once it starts completely boiling, close the pan and cook it on low flame for another 30 minutes.
Set it aside to cool down to lukewarm. Strain the mix through a clean, dry linen and extract as much as clear juice as possible. Ensure that you stop squeezing at the right time. We do not want the thick pulpy juice. For a crystal clear jelly, all you need is the clear juice only.
To the juice mix, add sugar, lemon juice and put it back to boil on high heat. Let it boil and reduce to the required consistency. You need to be extremely patient here, as it takes quite some time. If you have a wood fire stove at home, I would recommend using it.
The correct consistency is reached, when you put a drop of the jam into a bowl of cold water, the drop should retain its shape. This can happen after a thread consistency is reached and you need to keep a check in between.
When the correct consistency is reached, remove from fire. Line all the bottles on a wooden plank and pour the hot jam into the glass bottles. Set aside to cool completely. Once cold, close and store in the refrigerator. I absolutely love how the humble guava has changed into a fabulous sparkling red jelly jam.
Enjoy with your brekky with bread and jam.
Notes to remember
You may reduce the sugar quantity, if the guava you are using is very sweet.
Do keep a check on the final consistency, if overcooked, it will end us as a hard over-sweet jelly or even crystallize.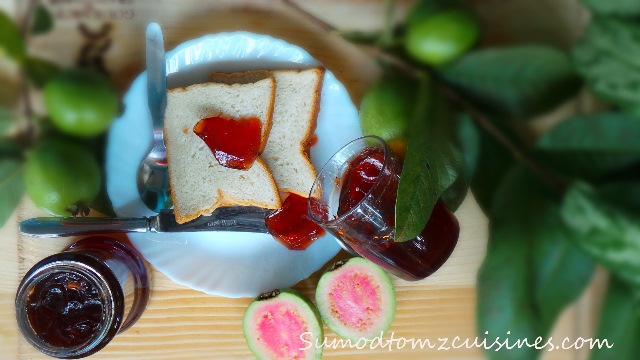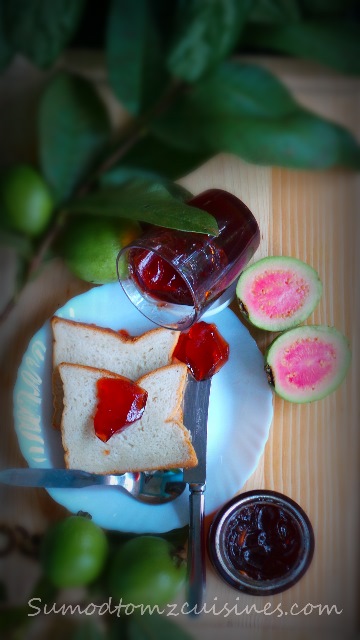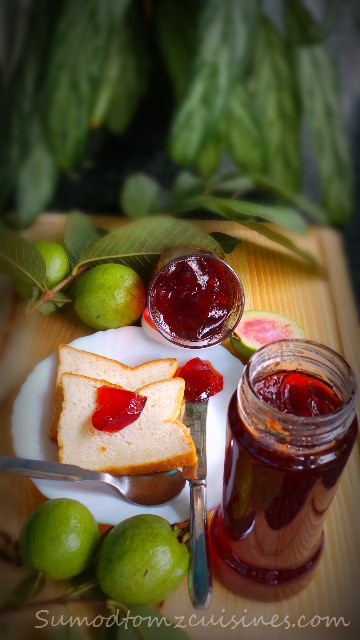 4.5

stars - based on

2

review(s)
Click here for FAQs