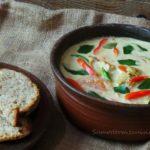 FISH MOLEE
I always used to find the name quite hilarious…Fish Molee….Well, I used to write and say it as MOLLY for a long, long time. I even guessed that the name came from some Molly aunty who made it. Until I learnt it was Mo-e-lee. Oh well, we all do have that moment sometime in our life I guess.
Fish curry is very synonymous with Keralites. The image that comes to mind will mostly be pieces of fish bathed in a red thick spicy gravy resting in a chatti. Well that is just one version. Another being the one made with green mangoes in a bed of coconut paste and green chillies…oooo…my mouth can literally sail a ship now.
Fish Molee is another fav of mine. Pairs soooo well with hot rice,  a lacy palappam or a wonderful n& steaming hot idiappam. The Molee happens to be a star too. Getting featured on wedding menus, buffets in 5 star hotels…Well, this gentle  curry is not so gentle as you think. With bold beautiful flavours merged in a silky smooth coconut milk, it plays a song on your sensations and palate beckoning you to go for seconds or even third helpings….And before you know it, you sit back and relax like a stuffed turkey. With all the thoughts as to , "Why did I overeat?"  but nevertheless not even feeling a remorse of guilt but bathed in sheer happiness and joy.
A perfectly balanced dish in terms of flavours ….Mild or Spicy, make it to suit your taste and desire. This is my must try and must have version. Try it….and don't blame me if you feel stuffed too…Blame MOLLY AUNTY!!!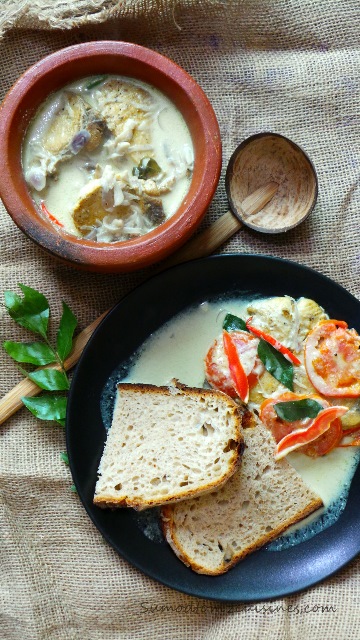 Ingredients
Instructions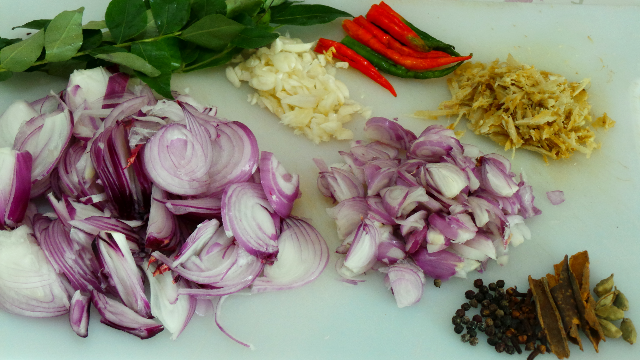 Marinate the fish pieces with turmeric , pepper powder, salt & lemon juice. Keep it for 30 minutes. Shallow fry the marinated fish in coconut oil for few minutes.
Slice ginger, green chillies and garlic into thin juliennes. Slice shallots and onion into long pieces
Heat coconut oil in a pan. Add cardamom, cinnamon & cloves, sauté for a minute. Add julienned ginger, garlic & chillies, followed by sliced onions. Sauté till the onion becomes soft. Add thin/medium thick coconut milk. Add the vinegar and salt. Let it boil. Add the half fried fish pieces and tomato slices. Cover and cook till the gravy becomes little thick the add  curry leaves. Once the tomatoes are soft, add thick coconut milk & just heat it, and remove from heat. Serve hot with appam, idiyappam, freshly baked bread rolls or white rice.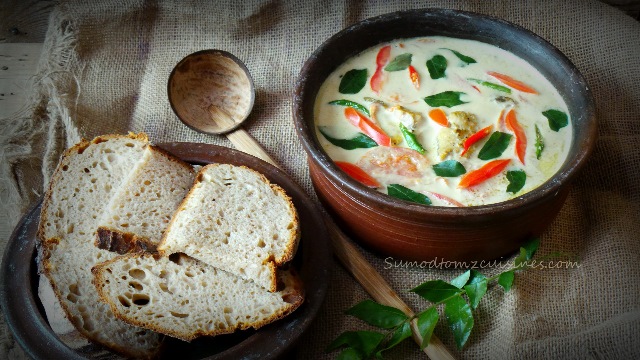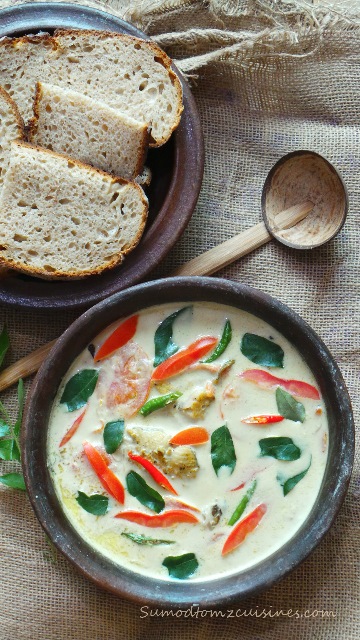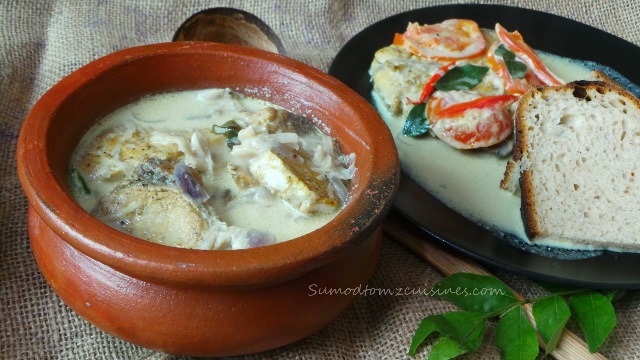 Click here for FAQs