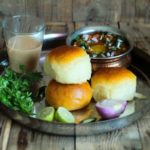 Eggless Ladi Pav
Been a while right...
Coming back with a yummilicious post. Something warm and perfectly soothing for the coming winter months...
Eggless Ladi Pav buns...ring a bell?
Chat houses..... hot hot pav bhaji with the creamy rich makhan flowing through the warm bhaji... the homely comforting smell wafting through.....Have I made you hungry enough?
Well, this is one of the most requested recipes and my lil guys too was behind me to make some pav bhaji. I guess the eggless trend is on more rampantly nowadays.... either it must be the vegetarian concept or eggs has something to do with 'fad diet concepts'....Well, I have to please my friends after all. Tried a few recipes after which I came up with this eggless version which turned out incredibly soft and melt in the mouth. Paired with an even more scrumptious bhaji from the blog of my dear friend Mona Malik of http://mmskitchenbites.blogspot.com.
Do peep into her blog and go thru a culinary magic. She's has a bunch of super duper yummy recipes most of which are a breeze to make.
Back to my pav... Here, I've used 1:1 ratio of maida to wheat flour and buttermilk, which paired up superbly in this recipe.
You don't have to run to a chat house for the pav bhajis anymore. Why don't you try it out for this weekend and do let me know your feedback. Shall we dive straight in?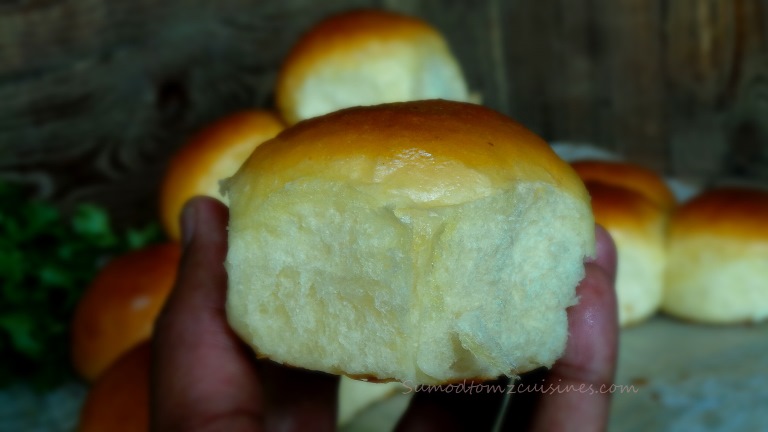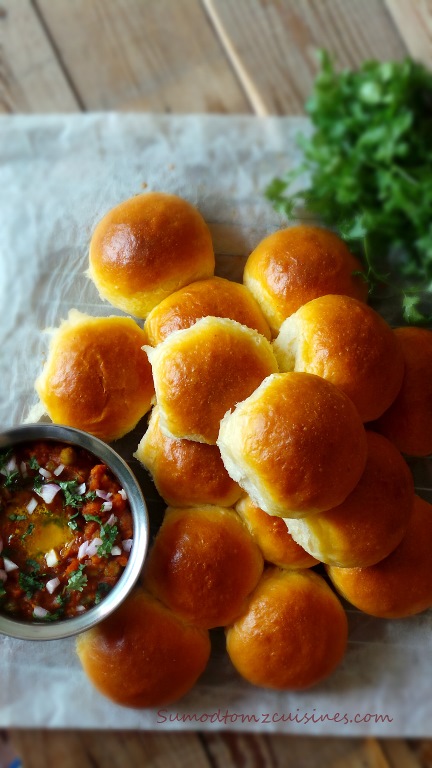 Ingredients
Instructions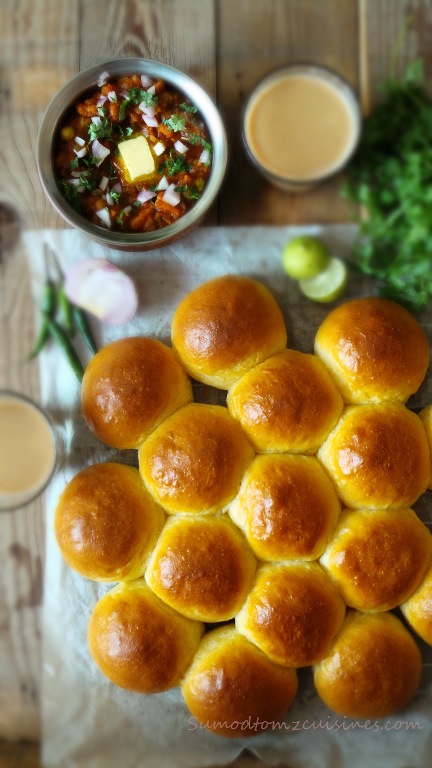 Take ¼ cup lukewarm water (from the recipe quantity), add 1 tsp sugar and the instant yeast mix well and set aside to rise. Mix the flour, milk powder, sugar and salt in a bowl. In another large bowl mix all the wet ingredients, (except butter). Add the risen yeast mix to this. Start adding the flour mix, a cup at a time, mixing well with a silicon or plastic scraper (if you do not have a scraper, mix with hand), till you get very wet dough, which starts pulling off from the side of the bowl. Add butter to the mix and keep kneading.
Transfer this to a lightly floured work table, knead gently for 10 minutes (stretch and pull), adding little flour at a time (if required only), till you get a very loose, but not sticky dough. (The dough may seem very sticky, but after the above kneading, it will automatically form smooth dough, do not add excess flour, and do not knead hard) Place the dough in a lightly greased bowl. Grease the dough also. Cover it, with a wet cloth and let it rise at room temperature (preferably warm place) until it's doubled in size.
Gently deflate the dough, take 60 grams of dough, and shape into tight balls, without any seams (If there is any seam, it should be placed down, with the smooth surface facing up).
If the dough is too sticky for you to handle, lightly dust your palm with flour or grease your hand with oil and shape.
Repeat the same for the balance dough and arrange on a lined baking tray, leaving little gap for the dough to expand. Cover with a dry towel and set aside for final proofing. 15 minutes before the bake, pre heat the oven to 200 C. Just before baking, brush the loaf with little milk or cream.
Bake in a preheated oven at 200 C, for first 15 minutes, and then reduce to 180 C till done, around 25 to 30 minutes total.
Remove the buns from the oven, and turn it out onto a rack to cool.
Super soft and delicious ladi pav buns are ready, for all occasions.
Serve hot with hot, spicy Bhaji. I bet, you would love it.
Note 1: Water required may vary, Use the lesser amount in summer or humid climates; the greater amount in winter or drier climates.
Note 2: Baking time could vary from different ovens.
Note 3: The dough may seem very sticky, but after kneading, it will automatically form smooth dough, do not add excess flour, and do not knead hard)
Note 4: You can brush with melted butter after removing from oven for a good colour and shine.
Note 5: If the buns are getting too much browned, cover with a baking sheet after 15 minutes.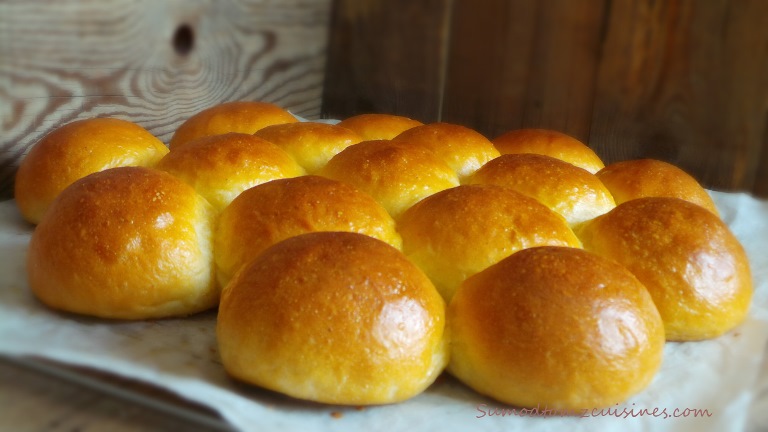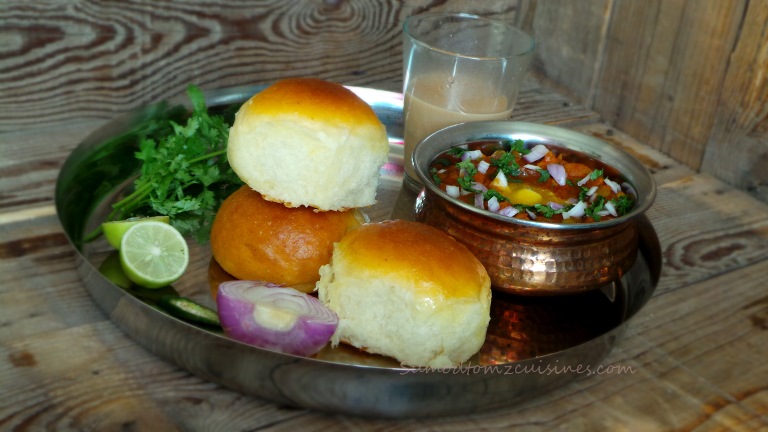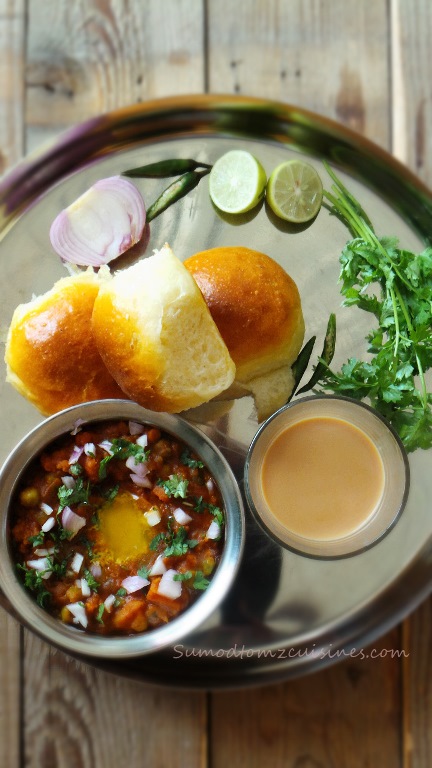 4.66666666667

stars - based on

6

review(s)
Click here for FAQs