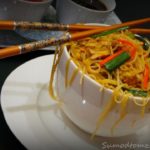 Chinese mixed noodles (chow mein)
Chinese mixed noodles (chow mein) is a very versatile and complete meal that can be made in quite a few delicious styles. This is one of my favorite ways to prepare noodles. This is another recipe passed down to me from my grandmother who learned how to make chow mein during her stay in Malaysia.
This dish takes me back to my childhood in Kerala when noodles were not very popular and not very easy to find. In fact, Grandma had to get Chinese packed noodles from Malaysia in order to make this dish. She went to all of this effort because she loved making chow mein, and she prepared it great passion.
Chow mein is a complete and delicious meal all by itself because it is made with loads of vegetables, egg and meat/prawns. Numerous vegetables like cabbage, carrots, beans, mushrooms, bell peppers, etc. can be added once they are thinly sliced and perfectly julienned. Grandma was very particular about the sizing of the sliced vegetables in order to maintain their uniformity.
Even eggs were pan fried like a pancake and then rolled up and thinly sliced julienne. Chicken, pork, beef and/or prawns are also added to this fabulous preparation. Chow mein is also an all-time favorite meal for most kids, and this makes it an ideal lunch box meal.
Here is my version of Chinese Mixed Noodles (Chow Mein), courtesy of Grandma.
Ingredients
Instructions
Make a few deep slits along the chicken breast, and marinate with crushed garlic, olive oil, black pepper powder, salt and soy sauce for 30 minutes. Cook it until it is tender. (Do not throw out the leftover juices). When cooked and cooled, shred the chicken into long thin pieces. If you are using pork/ beef/prawns cook with the same marinade as used for chicken.
Take two eggs, add 1 tablespoon of milk, little salt and pepper and beat the mix, fry it in a pan like a pancake. Roll it up tightly and julienne the egg into thin slices.
Clean and strain all the selected vegetables. Julienne the vegetables separately into long thin strips.
Slice the onion, ginger and green chili. Crush the whole garlic cloves with the skin on.
Heat a frying pan, add a little oil, and stir fry the selected vegetables seasoned with salt, pepper or with chicken/beef/vegetable seasoning, if you prefer.Set it aside.2015-01-24 11.22.29
Meanwhile take a large pan, boil water, and add salt and little oil to it. Add the packed noodles and cook them as per their detailed instructions found on the package. Please take care that you do not overcook the noodles.
When the noodles are cooked, strain them by adding more boiling water followed by running cold water over them for few minutes and set them aside. Add a few drops of oil at this point and give the noodles a toss, so they won't be sticky.
Heat a large pan, add oil. Add the crushed garlic, followed by ginger, green chili and onion. Sauté them well until they are soft and cooked.
Add the leftover juices from cooking the meat/prawns. Now add all the cooked vegetables, egg and meat. Give them a thorough mix.
Now add the cooked noodles in three parts, alternating with soy sauce and spring onions.
Give a thorough mix so that everything is uniformly mixed. Check the seasoning and add soy sauce as required.
Serve hot with tomato sauce and hot sauce prepared with soy sauce, shallots and green chili.
To prepare the hot sauce, thinly slice the green chili and put them in a small cup. Pour boiling water over the green chili and set them aside for a few minutes.
Thinly slice the shallots.
Strain the water from the green chili and remove their seeds as much as possible. Add the sliced shallots to the chili, vinegar, pinch of sugar,1/8th cup boiling water and 1/8th cup of soy sauce. Mix it all together and you have a hot sauce that is ready to be served with the delicious mixed noodles.
Tips to Remember:
1)Do not overcook the noodles.
2)Do not overcook the vegetables, just stir fry and leave them fresh and crisp.
3)A vegetable-only version can also be made, and it is very delicious.
4)Try not to skip the hot sauce because it is a great accompaniment to these mixed noodles.
5)Soy sauce contains salt, so adjust your seasoning accordingly.
6)My preferred version is with pork, prawns, eggs, beans, cabbage, carrot and mushrooms.
7)Chilli oil or Garlic oil can be used for added flavours, where
oil is required.
Click here for FAQs