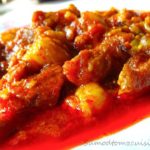 Chilli Pork
This is a family recipe passed down to me by my grandmother. My Grandma sailed to Malaysia at the age of 16 (just after her marriage), and all her cooking skills were learned there. Therefore, this is one of my most treasured family recipes because it has my Grandma's magic spark along with a little Malaysian/Chinese touch.
My Grandma made this dish with passion. She never took any shortcuts by using chilli powder. Instead, she always used dried kashmiri chilies deseeded and ground on the stone grinder "arakal." She also always preferred slow cooking. Though made out of the fewest of ingredients, this is a fabulously colorful and absolutely tasty dish which goes well with parathas and all types of rice. This dish has been the favorite starter for drinks for all my friends.
When I made this at home during my last vacation, the whole dish vanished in just a few minutes and everyone loved it. When I posted the pictures on Facebook, my beloved friends from my Bahrain days (where we used to cook this dish often) were all clamoring for a taste.
Here is the recipe for all to enjoy. For those who do not eat pork, you can try the same recipe with chicken or fleshy fish as well.
Ingredients
Instructions
In a large pan or pressure cooker, melt the fat pieces, or add a little oil.
Add the crushed garlic. Sauté well. Add a tablespoon of sugar.
Add the crushed shallots. Sauté well at a low flame until it turns golden.
Add the ground kashmiri chilli paste and turmeric powder. Sauté well until the raw smell is gone.
Add the pork and salt. Sauté well on high heat for 5 minutes; add a little water (as required). Close the lid and cook on low heat until done.
This absolutely delicious curry looks fiery red hot when finished and though you might think it is blazingly hot, the flavors are perfectly balanced.
Optional: You can reduce the amount of vinegar and add crushed blanched tomatoes instead. I use a combination of vinegar and tomato.
Note 1: Do not use chilli powder. Grind whole dried kashmiri chillis. It makes a difference.
Note 2: Use shallots only, not large onions.
5

stars - based on

1

review(s)
Click here for FAQs