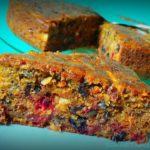 Carrots and Beetroots Plum Cake
How can a winter's menu be without a fruits cake, A cake to welcome the winter…
A moist, melt in mouth, fully flavoured cake, you would always love to bake again and again.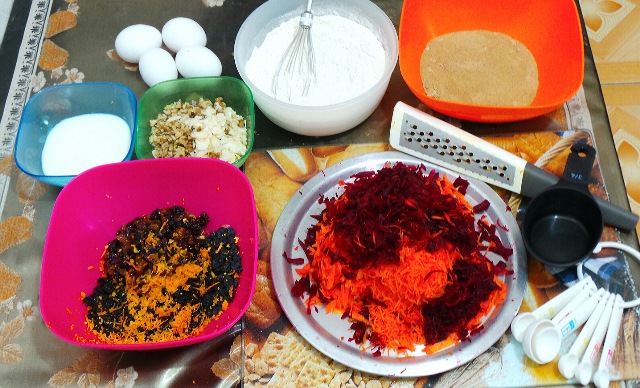 Ingredients
Instructions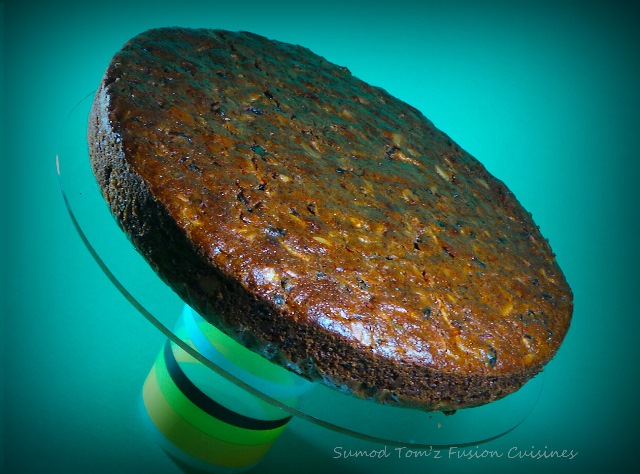 Mix together the chopped dried fruits, orange rind and nuts in the orange juice, jam, black treacle and caramel Syrup, and leave it to soak overnight.
Ensure all the ingredients are in room temperature. Grease the baking tins with shortening and dust with little flour. Tip out all the excess flour. You can even grease and line with baking paper.
Add salt, baking powder and spice powder to the flour and sieve the mix few times and set aside.
Pre heat the oven at 180 degree centigrade.
In a mixing bowl, add oil and powdered sugar. Start creaming with a mixer or with a spatula. Continue creaming it till it is soft and fluffy. Start adding eggs, one at a time, and continue with the creaming process. Repeat adding all the eggs. Scrape down the side of the mixing bowl in between and mix until all the eggs are totally incorporated and you have a very soft and fluffy mix. Start adding the flour mix, little at a time, say in 4 turns. Gently fold the mix, alternating with the milk, till the flour is fully incorporated. Do not over mix, Just keep folding gently only.
Now add the fruits and nuts mix, fold till it is fully incorporated.
Pour the cake batter into the prepared baking tin, i used a 12 inch tin. Tap on the work table, so that any air trapped in could be expelled. It is always advised to push the batter from the center out to the edges, just before you put the cake for baking. This would ensure a leveled cake top, than a domed one.
Bake in the re heated oven for 45 minutes, or till a wooden skewer inserted in the center comes out clean and dry.
Remove the cake from the oven and let it rest for 5 to 10 Minutes. Then gently tap the bottom, if required run a knife along the outer edges. Unmould the cake and let it cool completely on a wire rack. Slice with a serrated bread knife and enjoy.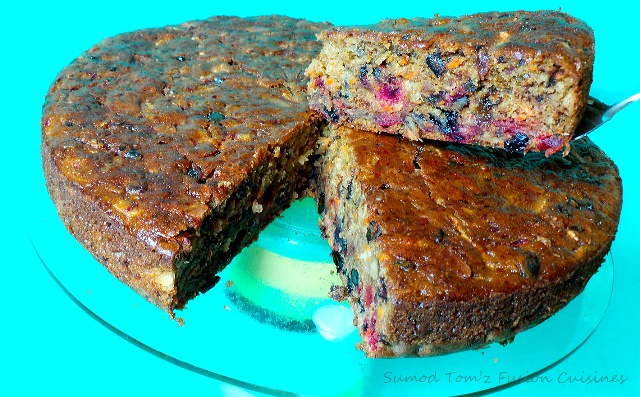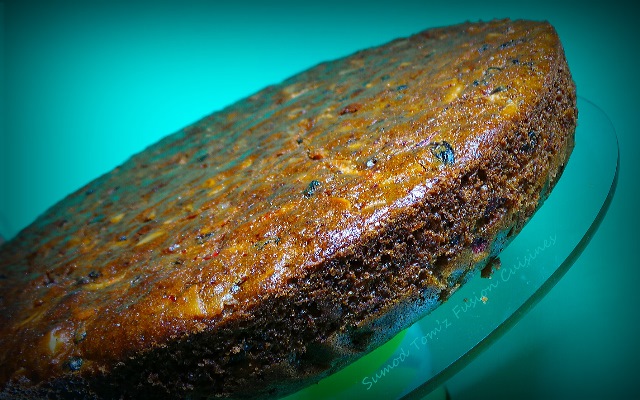 3

stars - based on

1

review(s)
Click here for FAQs