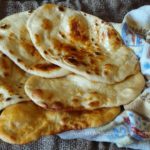 Butter Nan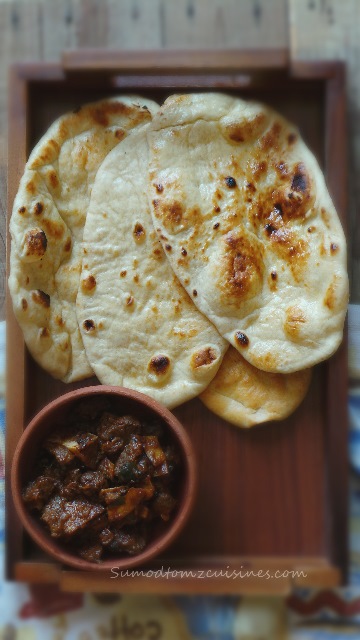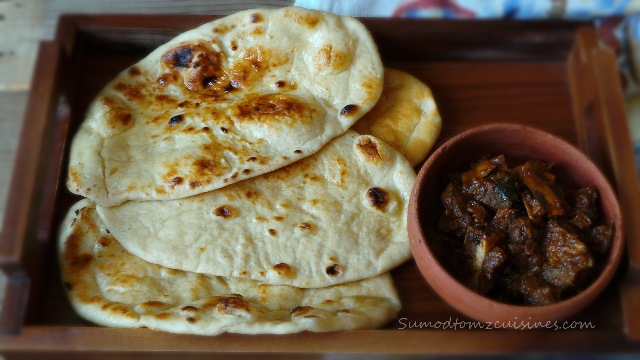 This white n slightly tanned goodness plays an important part in our lives at some point. I don't think there might be a single person who wouldn't love to devour this along with a thick, creamy and rich butterchicken or a tangy n spicy channa masala.
The list doesn't end here my friends,..... it's so versatile that it can be literally paired up with anything. Even, eaten as such....
Oh you butternaan!!! Why! Oh why are u so indulgent and tempting!!!
Ok.... fine, fine. I've stopped.
Butter naan is one of the most delicious Indian flatbreads ever. It's not just in India but an international entity in itself. Baked in a variety of ways from the oven, stovetop, tandoor or even the side of a pressure cooker. I've tried all, excepting the pressure cooker method and all have astounding results.
Baking with a starter/polish imparts a fab flavor and awesome texture. The naans turned supersoft and even remained fluffy even after hours of baking.
Makes a perfect lunch, dinner, tiffin or a brekky (why not!!) companion.
Give it ago n let this humble bread grace your tables...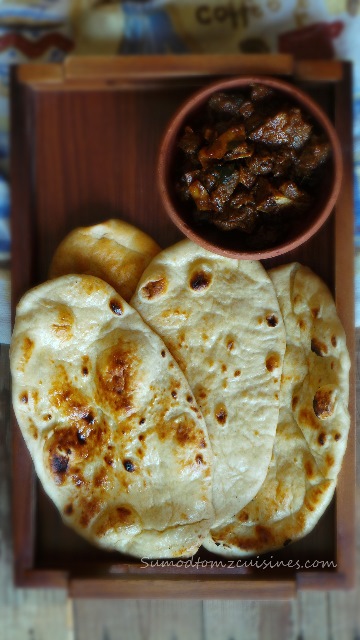 Ingredients
For the Poolish:
For the Dough
For Topping
Instructions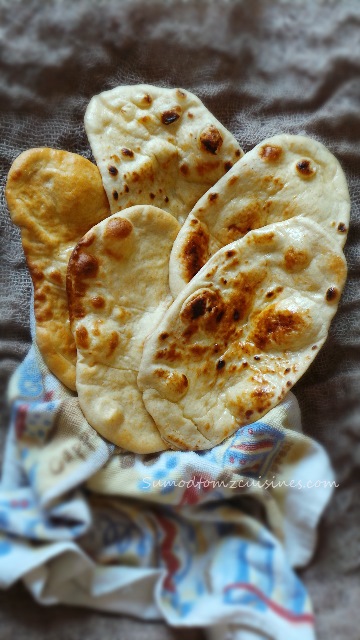 To make the poolish/starter:
Mix the water and 1/8 teaspoon yeast, then add the flour, stirring till the flour is fully incorporated. The starter will be paste-like; it won't form a ball.Cover and let rest at room temperature for about 8 to 10 hours; the starter will be bubbly.
To prepare the dough:
In a large Bowl, Sieve flour with baking powder, baking soda and salt. Add all of the polish, Instant yeast, honey, butter,milk and yogurt. Knead well for 8 to 10 minutes into medium soft dough. Apply a little oil and keep it under a wet cloth for one hour or until it double in size.Preheat the oven at 220 C.Gently deflate the dough and Divide the dough into 8 equal pieces, and shape each piece into a rough oval. Cover and let rest for 15 minutes. Press starting from sides and then move to the center of the dough ball or you can use a rolling pin.Make a round or tear drop shaped flat breads. Pick it up by hand and pat to give it a round/oval shape / tear drop shaped. Place in a baking tray lined with butter paper, brush the breads with egg wash, if desired, and top with seeds. Leave it for 15 to 20 minutes, covered with a towel.
Baking:
• Place on a lower rack of the oven at 220 C, and bake for 7 to 8 minutes, or until the breads are puffed and golden brown.
• Or Bake on a pre-heated pizza stone on middle rack (at Maximum oven temperature) for 4 to 5 minutes
• Or on a tava over stove top, spray water before placing the nan, cover and cook for 2 minutes on medium heat, remove the cover and flip the tava and cook directly over flame for a minute, till it is browned and done.
Remove the breads from the oven, tava and brush with ghee or melted butter, if desired. Serve warm, or at room temperature.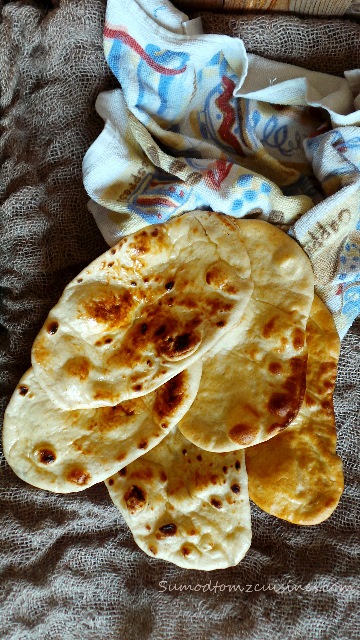 Click here for FAQs