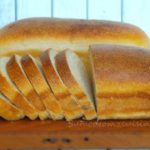 Bread Loaf with Hybrid Dough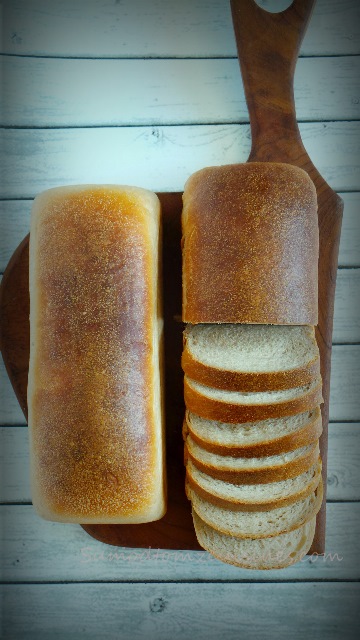 This is yet another fabulous recipe for bread, and it is one of my all-time favourites too. This recipe combines the goodness of sour dough with the added advantage of a shorter preparation time. A combination of sourdough starter and instant yeast is used as leavening agent.The flavour of this bread is amazing. Compared to other versions, I would give it a 9/10. The aroma during baking is mouthwatering. Your neighbours will come knocking every time curiously wondering what you are making. My kids are not big fans of 100% sourdough breads, but they love this version.
This recipe makes one large 9 x 5 loaf or two smaller loaves.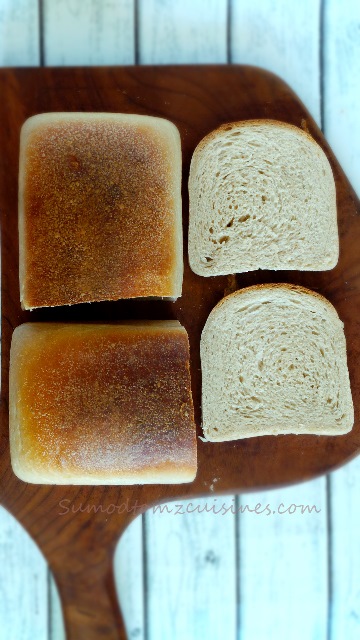 Ingredients
Instructions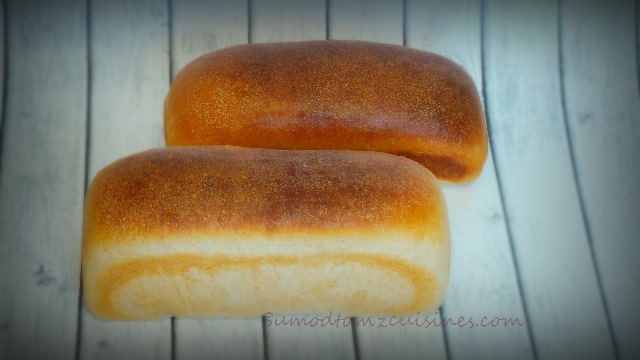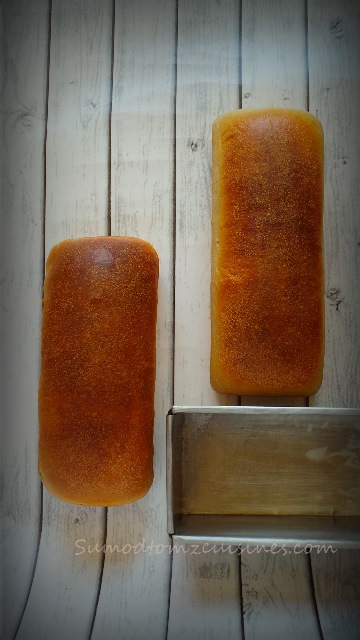 To Prepare The Levain:
7 to 12 Hours (as per your starter's ripening cycle timing) prior to the mixing of the dough, prepare the levain. In a small mixing bowl, take 65 grams water at room temperature, to that add 20 grams of fully ripe starter and mix well. To the mix add 65 grams flour, and mix thoroughly. Set it aside to ferment, it would take between 7 to 12 hours as per your starter. It happens between 7 to 8 hours for my starter.
To prepare the Dough:
Take ¼ cup lukewarm water (from the recipe) and combine with 1 teaspoon sugar and the instant yeast. Mix well and set aside to rise.
Mix the flour, milk powder, and the remaining sugar in a bowl.
In another large bowl mix all the wet ingredients, ie water and the levain.
Add the risen instant yeast mix to this and give it a mix. Start adding the flour mix, a cup at a time, mixing well with a silicon or plastic scraper (if you do not have a scraper, mix by hand), until you get a very wet dough, which starts pulling off from the side of the bowl.
Add salt and butter a little at a time to the mix and continue kneading.
Transfer this to a lightly floured work table, knead gently for 10 minutes (lift, spread and throw or stretch and pull), adding a little flour at a time (if required only), until you get a very loose, but not sticky dough. (The dough may seem very sticky, but after the above kneading, it will automatically form a smooth dough, so do not add excess flour and do not knead hard).
Place the dough in a lightly greased bowl. Grease the dough also.
Cover it, with a wet cloth and let it rise at room temperature (preferably a warm place) until it has doubled in size, usually 1 to 2 hours.
Gently deflate the dough to shape the bread loaf. Take the dough and spread it into a rectangular shape with a rolling pin. Roll up tightly into a log. Place the bread dough in a lightly greased loaf pan with the seam area at the bottom.
Cover again with a wet cloth, and let the dough rise for 45 to 60 minutes (preferably in a warm place), until it has doubled in size.
15 Minutes before baking, preheat the oven at 200o C.
Just before baking, brush the loaf with a little milk or melted butter or an egg wash.
Bake in a preheated oven at 200o C, for 40 to 45 minutes for the bread loaf. Remove the bread from the oven, and turn it out onto a rack to cool.
Slice the loaf only after cooling. When the loaf is completely cooled, wrap it in plastic cling foil, and store at room temperature in an air tight container.
Note 1: Water required may vary, Use a lesser amount in the summer or in humid climates; a greater amount in the winter or drier climates.
Note 2: Baking time may vary with different ovens.
Note 3: The dough may seem very sticky, but after kneading, it will automatically form a smooth dough, so do not add excess flour and do not knead hard.
Note 4: You can brush with an egg wash to get a golden colour for the crown.
Recipe for Sourdough starter
Note 5: If the crown of the loaf is getting too brown during baking, cover with a baking sheet after 25 to 30 minutes.
The aroma alone, which will fill your house when you bake this recipe, will make you want to bake it again and again. The taste of this bread will ensure you will never want to buy bread from the store or bakery again.
Happy bread making.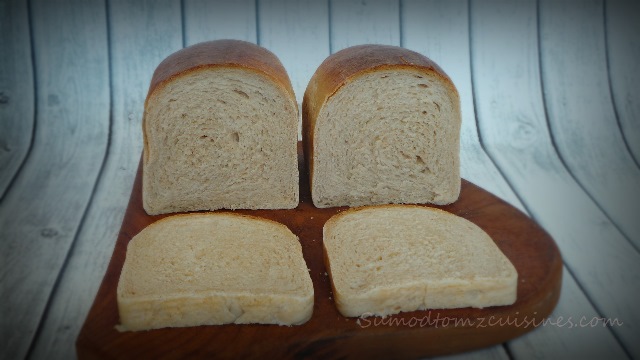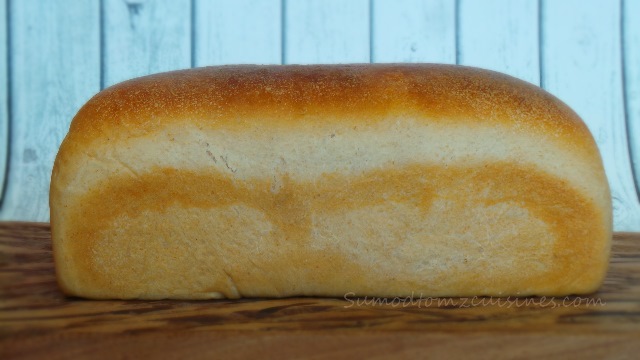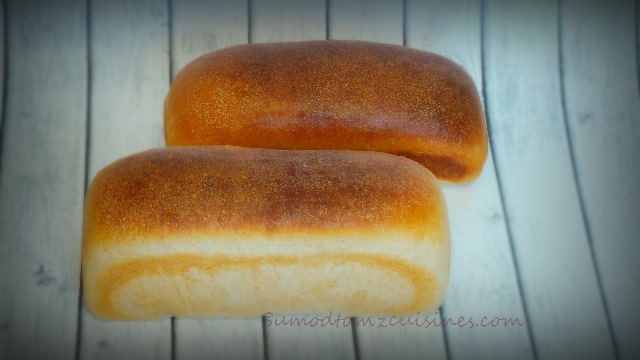 5

stars - based on

1

review(s)
Click here for FAQs