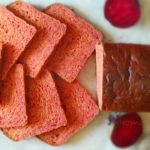 Beetroot Bread Loaf
Dinner time..... Kids are seated at the table. Rice with the traditional fare of veggies n curries was served. I look up and Joash was literally pecking at his plate of food. Which by the way, was so annoying. All the veggies kept transferring to Nisha's plate. Grrrrr..... even more annoying!!! Sigh. But that's how he is and my biggest critic. Mind you, all my recipes are tried, tested n my kiddie approved ones!! Won't you give anything to make kids eat their veggies?? On the other hand, there will be a handful of lil ones who just adore any sort of veggies. But.....that will be 2 out of 10 in most cases. So, the only way to get in into them is incorporate it in parathas, bakes or even better, bread!!!!! A pretty in pink loaf using beetroots. Nope, it does not have the earthy taste or any aftertaste if that's what you are worried of! Beetroots are an excellent source of folic acid and a very good source of fibre,manganese and potassium. Whether you roast it whole, blend into a classic soup or drink as juice like the Olympians do - beetroot is low in fat, full of vitamins and minerals and packed with powerful antioxidants - a health-food titan. Similar to the basic white bread loaf excepting for a chewy crumb and the colour. I'm sure this will be loved by even the most fussy kids. Try it to believe it.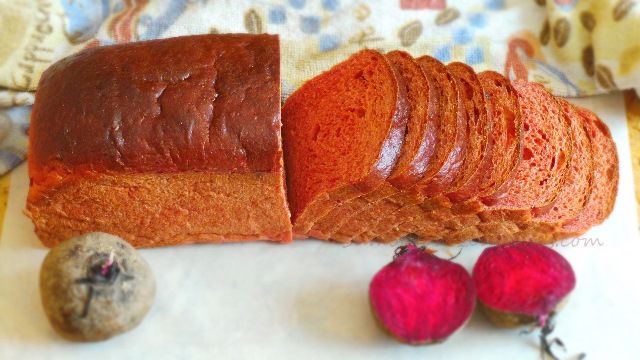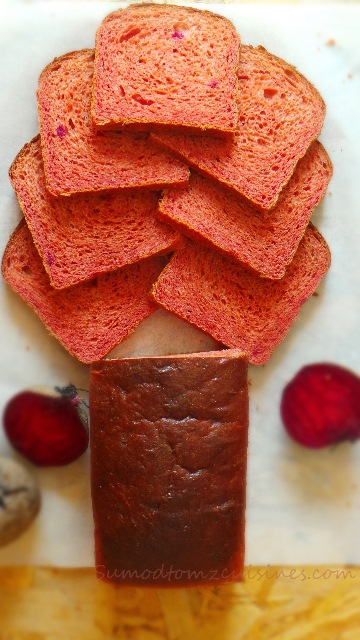 Ingredients
Instructions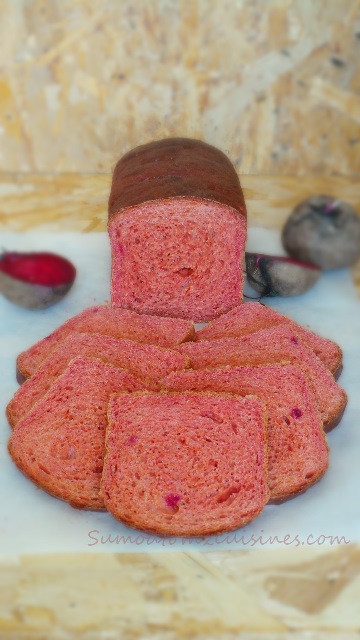 Mix the flour, instant yeast, sugar and milk powder in a bowl.
Skin 2 medium sized deep couloured beetroot, scrape/cut into small pieces and cook adding 1 cup water. We want a dry perfectly cooked beetroot mix (the added water should be absorbed /evaporated). Let it cool well. Then puree it in a blender.
Add the fine beetroot puree into a large mixing bowl. (You can add few finely chopped pieces too).
Start adding the flour mix, a cup at a time, mixing well with a silicon or plastic scraper (if you do not have a scraper, mix with hand), till you get very wet dough, which starts pulling off from the side of the bowl. (You may have to add few more Table spoons of flour or water, as per the water content of the beetroot you used. Adjust accordingly.)
Add salt and butter little at a time to the mix and keep kneading.
Transfer this to a lightly floured work table, knead gently for 10 minutes (stretch and pull), adding little flour at a time (if required only), till you get a very loose, but not sticky dough. (The dough may seem very sticky, but after the above kneading, it will automatically form smooth dough, do not add excess flour, and do not knead hard)
Place the dough in a lightly greased bowl. Grease the dough also.
Cover it, with a wet cloth and let it rise at room temperature (preferably warm place) until it's doubled in size, 1 to 2 hours.
Gently deflate the dough, to shape the bread loaf, take the dough and just spread into a rectangular shape with a rolling pin. Roll up tightly into a log. Place the bread dough in lightly greased loaf pan with the seam area at bottom.
Cover with a wet cloth, and let the dough rise for 45 to 60 minutes (preferably warm place), till it has doubled.
15 Minutes before the bake, pre heat the oven at 200 C.
Just before baking, brush the loaf with little milk or melted butter or egg wash.
Bake in a preheated oven at 200 C, for 40 to 45 minutes for the bread loaf. Remove the bread from the oven, and turn it out onto a rack to cool.
When completely cooled, wrap in plastic, and store at room temperature. Slice the loaf only after cooling.
Happy bread making..
Note 1: Water required may vary, as per the type of beetroots. Please feel free to add more water of flour, as required.
Note 2: Baking time could vary from different ovens.
Note 3: The dough may seem very sticky, but after kneading, it will automatically form smooth dough, do not add excess flour, and do not knead hard)
Note 4: This is not an easy recipe for beginners.
Note 5: If the crown of the loaf is getting too much browned, cover with a baking sheet after 25 to 30 minutes.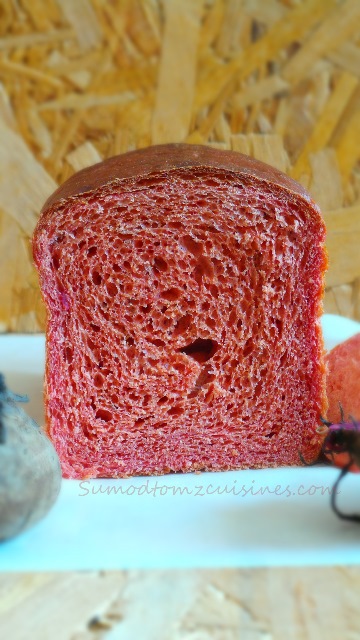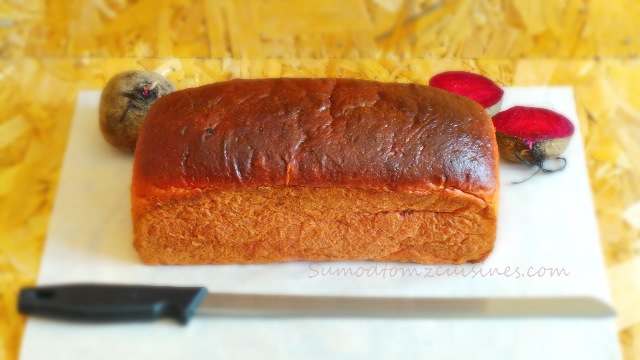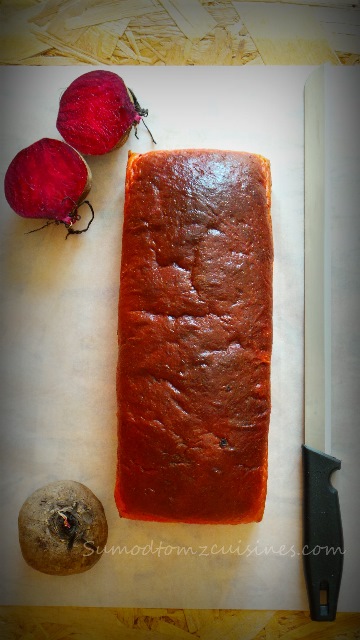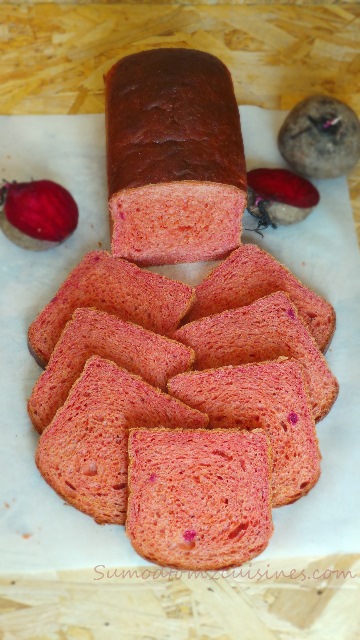 5

stars - based on

1

review(s)
Click here for FAQs