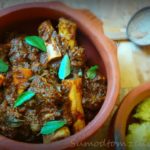 BEEF RIBS (VAARIYELLU) SPICY CURRY
Beef is a must with each and every Christian household. Let me emphasize the MUST in capitals and bold. Yes, it's that important for us. Common, don't smile…Just ask around and you will understand that it's not an understatement!!
A must especially during any form of festivities and there are a variety of flavors which can be created from this delicious meat.
Let me bring back some nostalgic childhood memories…
There were certain days in a week when beef, goat, buffalo and pork used to be easily available with the local butcher at the Kozhencherry market. For the best portion and cuts, we need to go early in the morning. When it comes to beef or buffalo, I remember my grandmother always telling to get only the cut from the ribs portion. She used to tell that it was the best cut of meat and believed that a butcher wouldn't do justice if he were to make it into slices. So she used to ask for a big cut and individually slice it so that she can get a clean cut across the grains.
Coming back to this very special dish, I can bet that this will be a total winner recipe. Beef-ribs cut with the bones is used for this curry. Traditionally this curry is made on very special occasions in Christian families, including the weddings and festivals. This cut has marbled fat strains within the meat and that adds amazing flavor to the cooked dish. A lip smacking delight to the very last bite.
*Beef ribs can be replaced with pork ribs for even better results.
Ingredients
Instructions
Clean, wash and drain the beef ribs pieces. Marinate with a little turmeric powder, salt, crushed pepper, crushed garlic and ginger (a little portion from the above mentioned quantity). Set aside for few hours.
Heat coconut oil in a pan, splutter mustard seeds, add asafoetida, followed by crushed ginger & garlic, sauté well then add in sliced onion and slit green chilies. Sauté on low flame till onion turns soft and golden brown.
At low flame, add chili powder, coriander powder, turmeric powder, black pepper powder, garam masala powder and sauté till the raw smell is gone.
Add marinated beef cubes, salt to taste ,vinegar and sauté on high heat for 5 minutes till the juices are sealed in. Add little water and pressure cook till done (4 to 5 whistles) or cover and slow cook over low heat until it is done. Slow cooking gives the best results.
When the meat is cooked, add coconut milk (optional) and cook for few more minutes or until the gravy turns thick. Keep this for 10 minutes before serving. Serve with some hot kappa or chakka vevichadu or Kerala Porotta.
Mixing this beef curry with kappa vevichadu makes another traditional delicacy of Kerala namely Ellu kappa (Ellu means bone in Malayalam or Kappa Biriyani. Ellu kappa is a very special dish served during the eve of festivals and weddings in central Kerala Christian families.
Try it for an amazing typical Kerala authentic experience….
Click here for FAQs