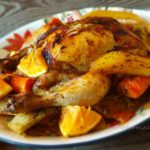 Baked/Roasted & Grilled, you name it!!!! Whole chicken with vegetables
Baubles, tinsel, sparkle, mistletoe, splashes of red, silver, gold, blue and a whole lot more surrounded by a winter blanket.  The only thing missing in this part of the world is snow.... it's inching closer towards my fav time of the year, Christmas. The whole feel and look is quite magical. Houses decked up with the most elegant Christmas trees and decor. Attending the special Christmas Mass followed by a scrumptious dinner with friends and family. No celebration can be complete without a non-veg affair.
The smell of a warm baked chicken laced with chunky pieces of potatoes and carrots paired with freshly baked dinner rolls. What's your take on it?
This is an extremely juicy and delicious chicken with the simplest of ingredients for the marinade. I've found that covering and baking tends to draw in the juices and towards the end, few minutes before the bake ends, to remove the foil and give a final grill just to bring out the colour. Mmm.... Rosemary gives out such a warm and soft feel during baking. My whole house has just sprung alive. It smells really good and fresh. Let this be part of your celebrations this year. It's quick, easy and totally fuss free.
Ingredients
Instructions
A day prior to roasting
Clean, wash and pat dry the whole chicken. Crush together all the marinade ingredients. Apply thoroughly all over and inside the chicken and refrigerate overnight or at least for 4 to 5 hours. You can stuff in the left over lemon and inside the chicken cavity.
Two hours before roasting, remove the chicken from refrigerator and keep at room temperature. Preheat the oven to 220 C.
Marinate Potatoes, carrots and beans with olive oil, crushed garlic & pepper, chopped celery, parsley, dill and salt, just before the baking starts.
Place them in layers as a bed tor the chicken to rest; in a large baking tray.
Apply butter all over the chicken and under the skin by carefully lifting the skin. Stuff inside the chicken gut with few oranges, carrots, potato cubes and rosemary.
Place chicken over the prepared vegetables bed and cover tightly the whole tray with aluminum foil, seal the sides. Place it in the pre heated oven and bake at 220 C for 40 to 50 minutes.
Then remove the aluminum foil, switch on to the grill option and continue grilling for another 10 to 15 minutes, till the skin turns crisp and golden/brown. (Turn over the chicken after 7 minutes grilling.) Remove the whole tray and let it rest for 10 to 15 minutes.
Juicy ,soft and most delicious baked/roasted/grilled chicken with vegetables is all set and ready to dig in. Slice and serve with mayonnaise, warm pita bread or dinner rolls.
What better way to end an amazing Christmas Day!!
Wishing my amazing friends a Merry Christmas and a Happy New year 2017.
Click here for FAQs