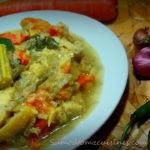 Aviyal
Aniyal is a special traditional dish of kerala, a thick mixture of vegetables and coconut, seasoned with coconut oil and curry leaves. Avial is considered an essential part of the Sadya, the Keralite vegetarian feast.
I love to have it alone, and is one dish I always ask mom to cook when I reach home (in nadan man chatty (clay pot).
And the best part is that we can cook with what ever the vegetables that we have in hand, and that could be the main reason it became a part in our family meals since the day i remember.
Ingredients
Instructions
Chop all the vegetables lengthwise, around 2 inches in length.
Cook all vegetables except mango / tomatoes with just enough water, turmeric powder and salt. Do not mix with spoon, instead shake the whole pan, so that the vegetables holds its cut shape.
Mean while in a food processor coarsely grind grated coconut, cumin seeds, turmeric powder, garlic, green chilies and few curry leaves.
Add the ground mix with the mangoes or tomatoes to the top of the cooked vegetables. (if you are adding yogurt add it now).
Cook in low fire for a minute and remove from fire.
Drizzle a table spoon of coconut oil and some curry leaves and serve warm.
Click here for FAQs