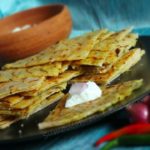 Aloo paratha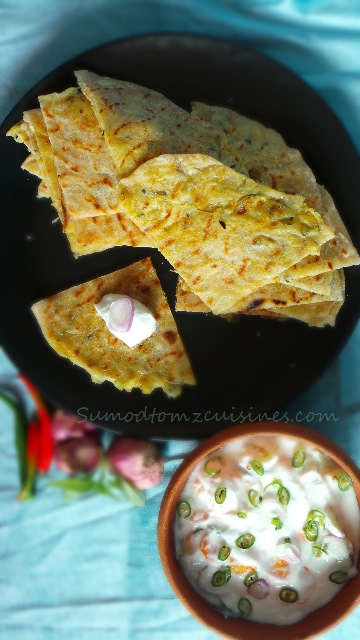 I'm human!!! And I eat things other than sour dough and breads too.
Well, this recipe came up when Nisha was back home for vacation and that's when I end up literally throwing apart the kitchen with trials and errors. Those led me to eat quite a looot of bread. And I needed something different, easy and that I could take with me to work. Versatile you may say.
Well you may ask What the #$%& is this guy up top now!!!!,with this recipe.
So the baker in me put two n two together and voila came up with the humblest of all.... Aloo parathas!!
Quite simple to make. Can be made in advance, refrigerated and reheated in the morning. Pairs well with some thick curd or Raita. But wait..... do you think I will let that go off so easily. Naaa.... I couldn't. I had to put my bread brain to use.
Increased the hydration of the dough, I.e., the water content in the dough. Now you may be thinking that it's gonna be incredibly sticky dough which can in no way be rolled out.
Well the hack is use a greased fondant rolling mat and the fondant rolling pin. Tadaaaa.... easy right.
Since I wanted to make them at night and refrigerate it overnight, and cook it in the morning, I even rolled each paratha over a greased baking paper and lifted and stored it in a container (with the baking paper, so that it won't stick on to the next one and can be easily removed). And the same process was repeated for all. This way you can pat it down to very thin consistency, without much potato leakage troubles. Early in the morning pull out the required number of parathas, pan fry and that's it. Perfect for a party starter, kids or office tiffin and you will never get bored with it.
NB: Do keep your masala stuffing as dry as possible.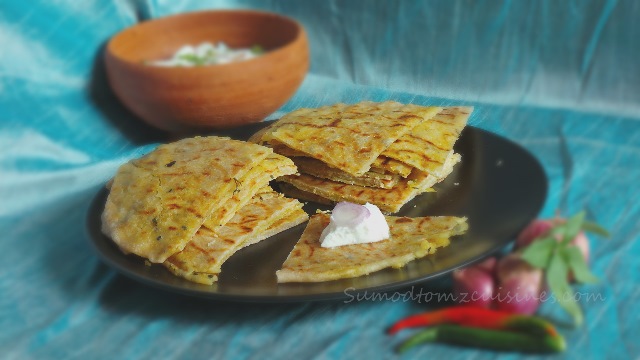 Ingredients
For the dough:
For the filling
Instructions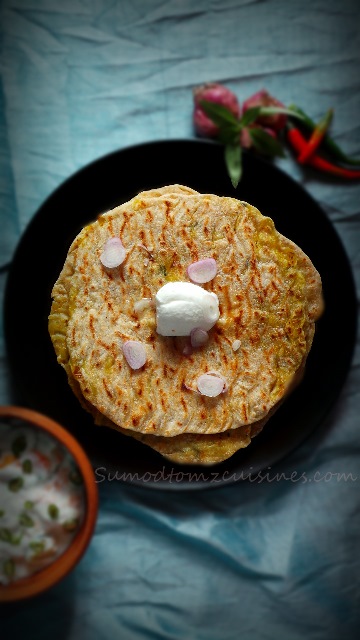 For the filling:
Heat a heavy bottomed tava, add little oil (or ghee), splutter the cumin and ajwain seeds, and add chopped garlic, onions and chilies. Sauté well till it is soft and done. Add Turmeric powder, sauté for a minute, then add the mashed potato, salt and chopped leaves, sauté well for few minutes, and set aside to cool down. When its still warm, make six equal sized balls.
In a large bowl, add flour and salt, to that add beaten curd plus water & mix. Add salt, oil (or ghee) and knead for 5 minutes. Grease the dough and let it rest for 30 minutes. Then divide the dough into 6 equal sized balls.
Take the dough ball; make each to a 4 inch size round shape, place the filling in the center and wrap tight, totally covering and sealing the edges.
For the final shaping, generously grease a fondant rolling mat and pin, and pat down the dough balls, with very gentle pressure, to the required thickness. Do not flip, but keep rotating. I could pat down to real thin parathas, and loved it that way. Cook on a tava, till its golden brown and done. Brush with some butter. Serve hot with some curd or raita, or any of your favourite curry.
If you want to make it on the previous night or early for a function, follow the instructions above, using a baking paper in between each to avoid them sticking to each other.
Notes:
Filling can totally be of your choice, but keep it simple. Do not add too much masala and spoil the amazing aloo flavor.
Adding an egg, a teaspoon of sugar, and butter would enrich and enhance the dough taste and texture.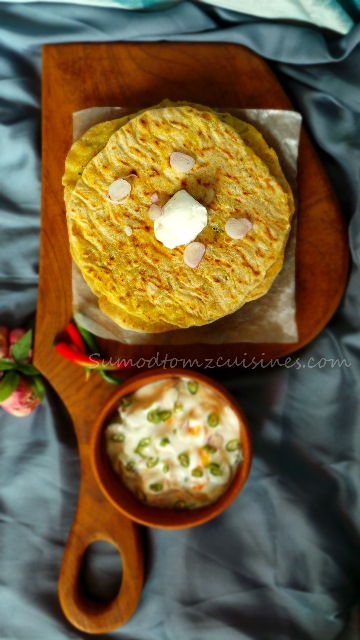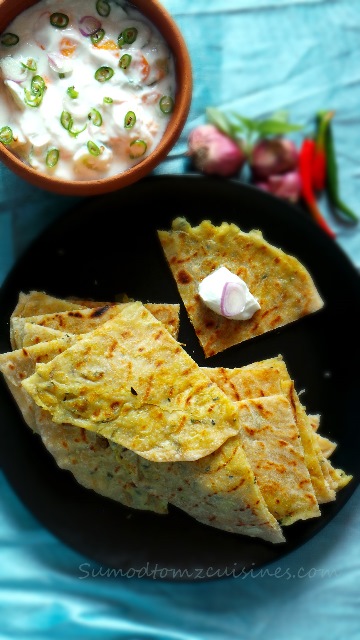 Click here for FAQs